Game Review
Joker Nature Slot: The Joker Wild Awaits You

Are you willing to get inside the head of the Joker?
If you thought EGT is the only one trying to blend the world of video slots and classic slots, you'd be partially wrong. EGT is surely doing a great job but Merkur is chasing it with everything it has got.
OJO is very much excited to tell you about a unique game today. Joker Nature slot to be precise. If you haven't guessed already, it's a title from Merkur Gaming.
Joker Nature Slot
The moment you open the Joker Nature slot, you might mistake it as a classic game. But you'll instantly notice the 5 reels and the 4 rows. That's not normal, right? Joker Nature slot has a unique 5x4 layout with 40 active paylines. And all 40 of them will be active at once!
According to Merkur, the RTP of this game is 96.5% in the long term. The long-term aspect is very important because you can't expect a game's RTP to take precedence overnight.
In terms of the bets, it's a relatively risk-free title. The minimum bet value starts at C$0.40 and goes up to C$20. There it's a "fixed" payline title, you don't have to worry about the bet per line aspect.
The game interface is pretty standard. It's very minimalistic and OJO seems to love it so far. At the beginning of the game, you'll see all 40 paylines marked. Trust OJO on this, it's not a simple image to look at!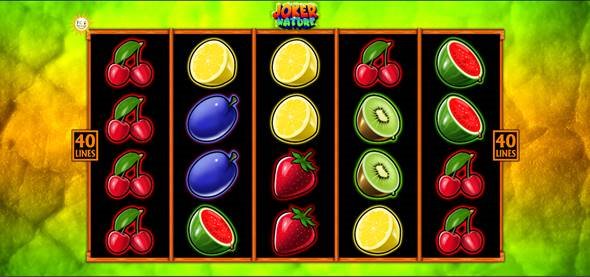 Theme & Sound Design
As it happens with video slots with a touch of classic, you don't get much of a theme. We've seen this in other slots like Burning Hot or Shining Crown from EGT. A noticeable difference in the Joker Nature slot by Merkur has left some empty space all around the grid.
You can think of the empty space as the backdrop. From a distance, it looks like cotton candy. Or, clouds. It's open for interpretation. On top of the grid, you see the Joker Nature logo. The Merkur logo on the top-left intersection is a very subtle yet powerful touch.
In terms of the colour pallet, you will find a mix of lime and orange. It's not particularly a soothing combination but it's not distracting as well. Overall, the theme of the Joker Nature slot is very simple yet it gets the job done.
Symbols
The symbols you will find in the Joker Nature slot are you need any introduction to. All of them are recurring symbols in 3-reel and 5-reel classic slots. OJO likes to call them the fruit machine symbols. But the fruits look more delicious on this one!
The highest paying symbol is the bell. If you land 5 of them on a payline, you receive 200x your bet value. That's quite a payout, right? For 4 and 3 on a payline, your winnings come down to 20x and 2x.
Watermen is the second highest paying symbol. You may receive up to 50x of your bet as winnings for 5 on a payline. For 4 on a payline, you get 5x. And for 3 on a payline, you get a 1.5x payout.
Strawberry is the next important symbol and it pays 25x for 5 on a payline. Although that's quite a drop from the previous symbol, you can't neglect a 25x payout. For 4 and 3 on a payline, you receive 2.5x and 1x your bet value. The Kiwi fruit pays exactly the same as the Strawberry.
The plum and the orange pays identically. For 3 on a payline, you receive a 0.5x payout. If you land 4 symbols, the payout increases to 1.5x. The highest is for 5 on a payline and it's 15x. The last of the two symbols are lemon and cherry. The payouts are 10x, 1x, and 0.25x.
Last but not least, you have the wild and it's called the "Surrounding Wild". It can replace all symbols on active paylines. As there are no scatters in the game, nothing can stop the wilds from getting you what you deserve.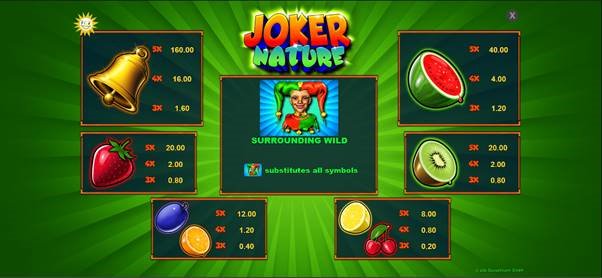 Bonus Features
To be honest, the Joker Nature slot game is seriously lacking in terms of bonus features. The absence of a scatter symbol means you can't get any free spins in the game. The only bonus feature is the gamble.
First up, we have a card gamble. It appears on the screen when you generate a payline. You have to click on the Gamble button with the card symbol. You can bet on the colour of the next card that's supposed to come up. If you get it right, you get a double payout.
The other option is the Ladder gamble. You can click on the Ladder Gamble button to receive a 1:1 payout or go up/down the ladder. You can even collect half of your payout from the gamble feature. The rest of the winnings will go into stake again.
Pros
Very simple user interface
Easy to play
Symbols are easy to calculate thanks to the dynamic adjustment
Bet value ranges between C$0.40 and C$20
Up to C$250,000 maximum winning
Cons
No scatter symbols
No interactive bonus rounds
Very bland visuals and audio
Wrapping Up
Joker Nature slot might not be a good pick for you if you expect lots of actions in online slots. It's a high volatility title with not much of a theme. Only the classic slot lovers will understand the true value of this game. If you believe you have it in you, why not start playing right now?