Game Review
Invaders From Planet Moolah Slot: UFOs Landing!

Let's get ready Amigo, buckle up, because we're blasting off with Planet Moolah online Slot at OJO! Alien cows from the Planet Moolah have come to invade Earth and they might be bringing some space treasure with them!
It's pretty hilarious to imagine cows from space and a bunch of other barnyard animals, so the concept gets an A+ right from the start. With cascading reels, this slot may be a little different than you're used to, but it makes it so much more fun! There are also great bonuses, an autoplay feature and an RTP between 92% and 95% in this slot from WMS Gaming.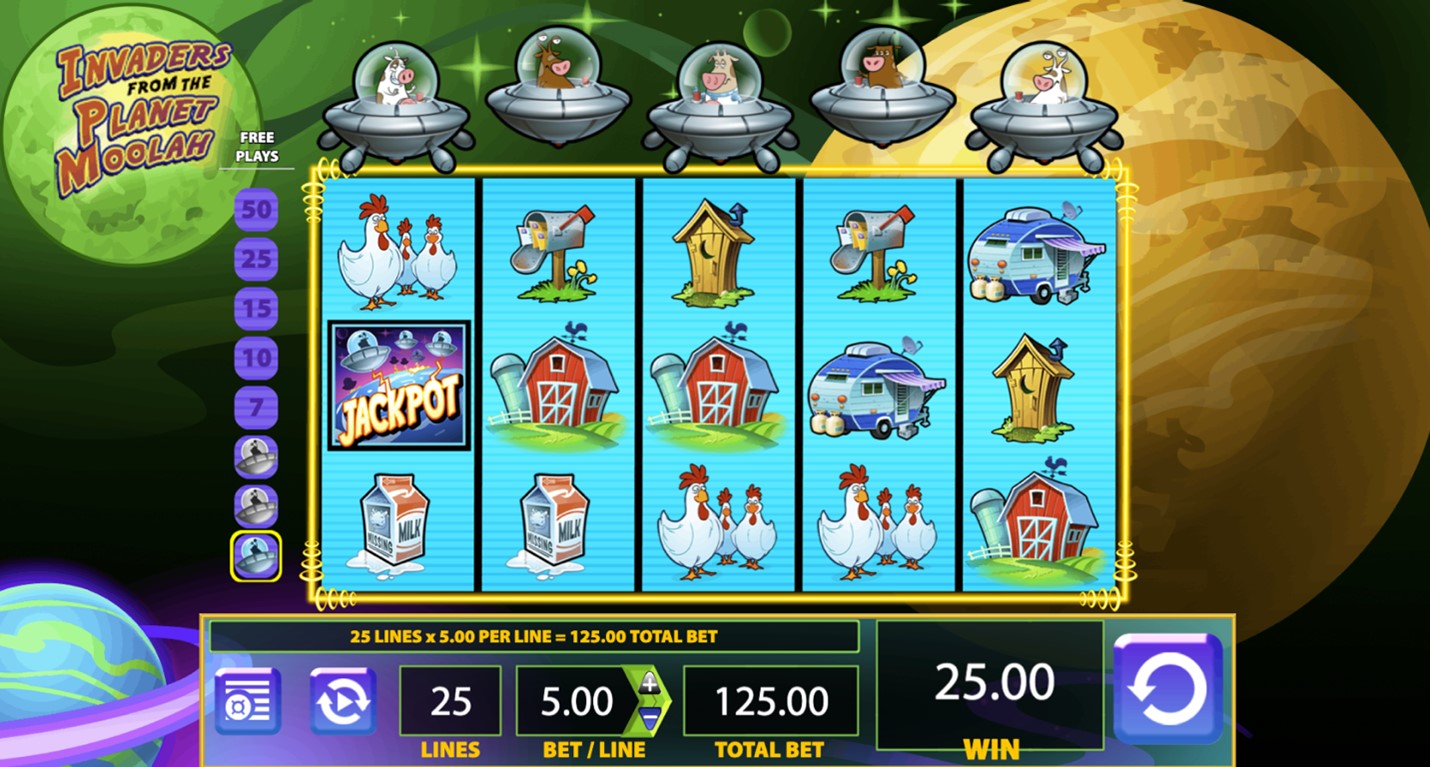 How To Play Invaders From The Planet Moolah Slot
This online slot has cascading reels which makes it a little different from the traditional online slot games in Canada. It appears to be like any normal slot with five reels and three rows, when the reels go and lock into place. But when you hit a combo the alien cows are going to help you add a barn full of moolah to your pocket! The cows will zap the symbols from your win and new symbols will fall down from above into their place.
There are 25 different paylines and you can change your bet anywhere from $0.25 to $125 per spin, so it is a good game for both slotsplay beginners, as well as old pros.
The symbols are all based on barnyard and farm themes. The small symbols are an outhouse, carton of milk, mailbox, chickens, truck, trailer and a barn. Then your big symbols are all characters from the farm. You've got Grandpa and Grandma, Man, Cowgirl, and Dog. Finally, you have your biggest symbol which says Jackpot and features some alien cows. There are also three different Wild symbols of different coloured cows, but they all do the same thing, and they only appear on reels 2 and 5.
If you ever get lucky with the cows' lasers and connect on four cascades in a row you will trigger the Invasion Bonus, which is where you can make some real moolah. Your free spins go up with how many cascades you hit in a row, from 10 Free Spins at four consecutive cascades, all the way up to 50 Free Spins if you connect on eight consecutive cascades! Speaking of which, did you know that OJO gives you 50 Free Spins when you sign up and make your first deposit? Plus, there are no wagering requirements on any bonuses at PlayOJO and tons of great online casino games as well!
Invaders From The Planet Moolah Online Slot Effects and Graphics
As mentioned before, this is an amazing game concept, so WMS Gaming already gets bonus points for that. How often can you tell your friends you can't come to the phone because you're in the middle of an alien space cow invasion!? The graphics are simple, but good. Who doesn't love cute little cartoon farm animals?
The effects are great, as you'll love to see the lasers shoot from the cows every time you connect on a cascade. There may be more modern games when it comes to graphics, but this one is still a blast, and you'll have a ton of fun playing it day and night.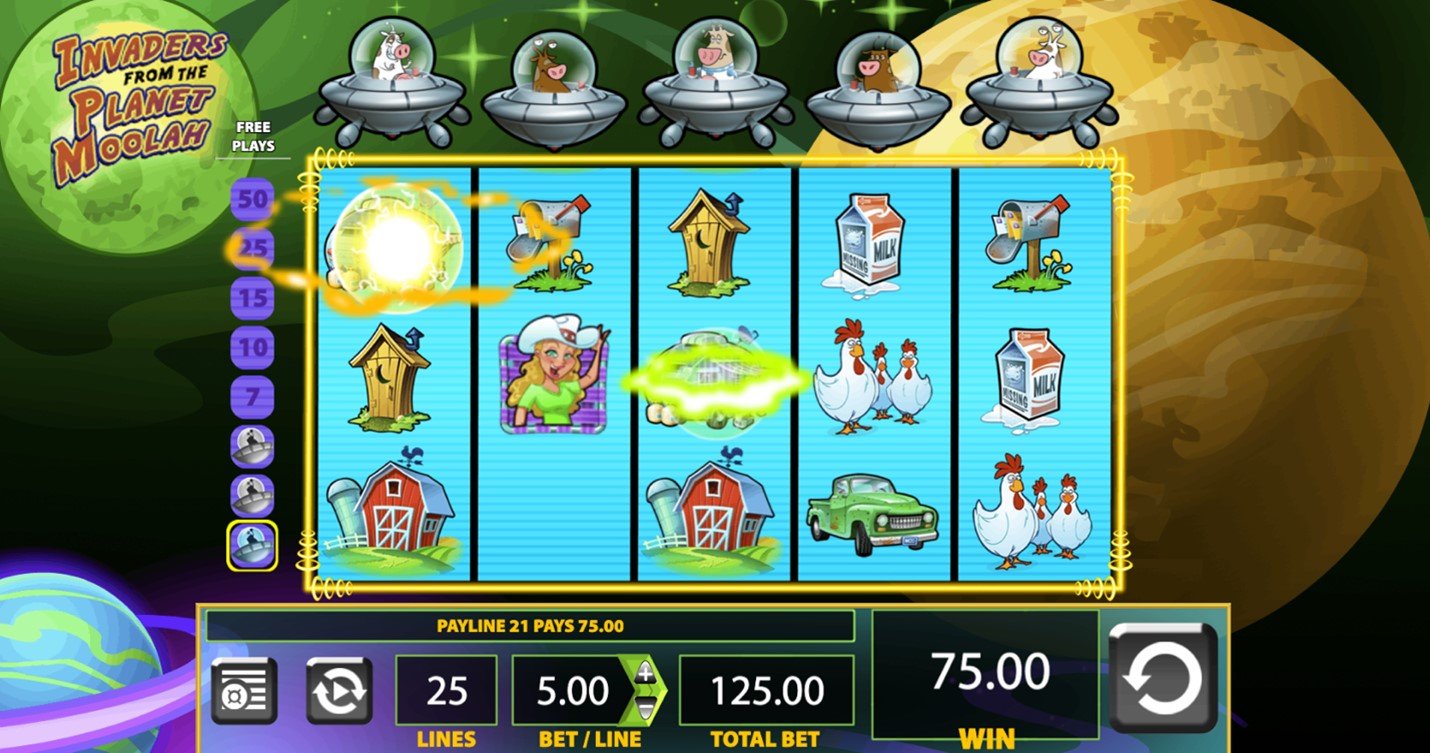 Invaders From The Planet Moolah Online Slot Extra Features
The cascading reels in Invaders From The Planet Moolah at OJO are a lot of fun, and they're going to be the main way you win your money, but you can also strike it big by heading to the Free Spin Bonus round. All you need to do is hit a minimum of four consecutive cascades and you will receive anywhere from 10 to 50 Free Spins! Now we're talking!
Once you get to the Free Spin Bonus round, an alternative set of reels will be used, but it's the same size, and other than that the game is mostly the same here. You can even unlock even more Free Spins by landing four consecutive cascades again.
Sometimes you will get lucky and the Free Spins Bonus round will activate completely at random, without you even getting four consecutive cascades, so that is fun!
There is also a good autoplay feature that players can take advantage of. You can set your limit up to 200 spins, or you can also set a loss limit or single win limit too. This is good for players that like to multitask while the game is playing in the background, or play multiple games at once, or maybe they just want to sit back and relax while they watch the reels fly, and cows shoot their wins!
Invaders From The Planet Moolah Slot: What's The Verdict?
So Amigo, what do we think about this space adventure? Well it's out of this world, of course! The cascading reels are really the best part about this online slot. Most online slots at OJO Canada have a standard reel set up, so it is nice to have something different here. The game is simple, and the bet limits of $0.25 to $125 make this a game that everyone can enjoy!
Plus you get 50 Free Spins when you sign up at OJO and make your first deposit, and there are no wagering requirements. Look out for the alien cow lasers, let's blast off and win real money in real time!