Game Review
Great Book of Magic Review

Great Book of Magic by Relax Wazdan is a spellbinding online slot game that takes players on a mystical journey into the world of magic. For enthusiasts of the mysterious and those looking for big winnings, it delivers an immersive experience thanks to its alluring theme and enthralling gameplay.
Pros
Interesting subject focusing on magic and the paranormal
Excellent visual effects and graphics that heighten the mystic mood.
Exciting bonus features, including Free Spins and a Gamble feature.
Cons
The high volatility of Great Book of Magic may not be as attractive to players who prefer low-volatility games with steady wins.
The online casino game Great Book of Magic encourages players to explore a world where mysterious spells from times past and ancient secrets can unlock many treasures. The game's unique subject, stunning visuals, and interesting bonus elements create an immersive and satisfying gaming experience.
It is much more alluring to set off on this wonderful voyage when playing Great Book of Magic at OJO, which guarantees a fair and open gaming environment without any wagering requirements.
Players who prefer visually attractive slots with elaborately themed gameplay will enjoy Great Book of Magic. The adventure offered by Great Book of Magic is alluring, regardless of whether you enjoy magic and the paranormal or are just looking for a slot game with a hint of mysticism.
However, it is vital to remember that the game's high volatility adds a level of risk, making it better suited for players who like the thrill of going after big wins over sporadic little wins. This game eagerly awaits your arrival if you are prepared to set off on a fascinating quest and discover the mysteries of the Great Book of Magic.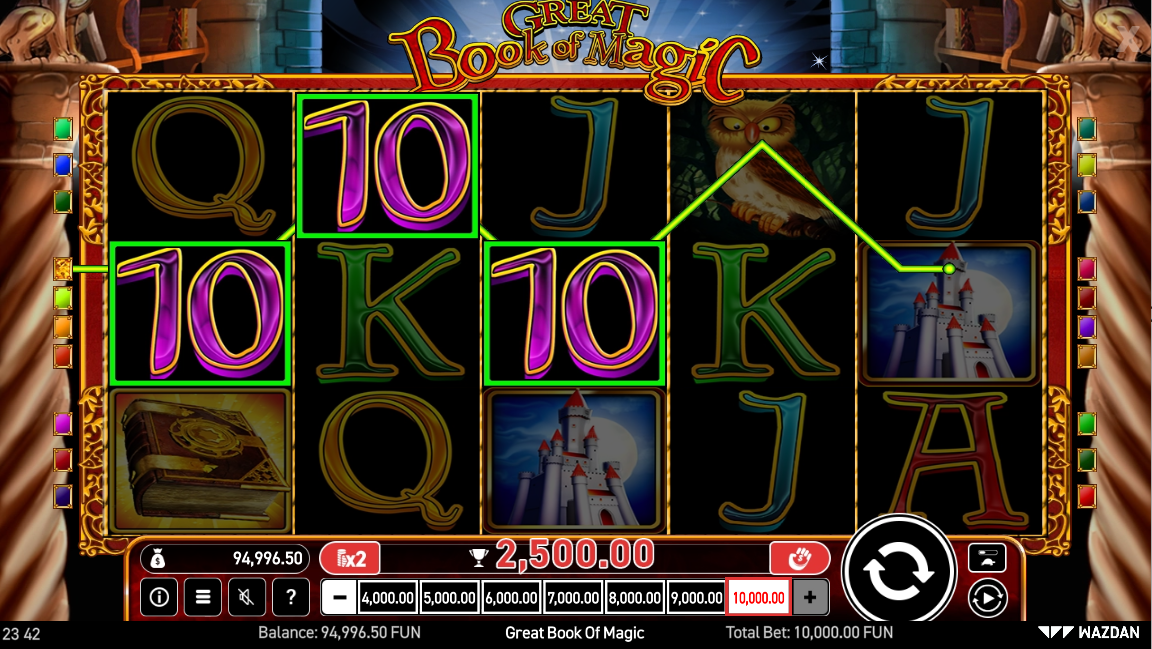 Great Book of Magic Slot | Features and Benefits
Amazing Visuals and an Entertaining Theme

Great Book of Magic immerses players in a world of mystery and enchantment with its captivating concept.

The game's symbols, which are brought to life by breathtaking graphics and meticulous attention to detail, include ancient texts, spells, magical goods, and mythological animals, to name just a few. The absorbing setting created by the fascinating graphics enhances the gameplay.

Free Spins Bonus Round

The Free Spins bonus round in Great Book of Magic is launched when three or more Scatter symbols appear on the game's reels. Players receive a set number of free spins as a result, which raises the likelihood that they will come across winning combinations.

A particular symbol is chosen to expand and take up the entire reel during the Free Spins feature, resulting in big rewards.

Gamble Feature

Great Book of Magic has a Gamble function for players looking for more thrills and the chance to boost their winnings.

Players can bet their winnings after each successful spin by predicting the color or suit of a playing card. A good prediction may double or triple their winnings, giving the game an exciting element of risk.

High Volatility with a Chance of Big Wins

Great Book of Magic may not offer frequent wins because of its high volatility, but when the magic cooperates, the rewards can be huge.

This feature will appeal to players who like the exhilaration of going after big prizes and are ready to accept the inherent risk. Great Book of Magic holds the promise of impressive winnings for those who combine luck and persistence along their magical journey.

Playing the game is fun and rewarding

Great Book of Magic offers a fun and satisfying gaming experience overall. A rich and engaging gaming experience is made possible by the captivating theme, stunning graphics, and additional features like Free Spins and the Gamble function.

Although the high volatility of the game might not appeal to every player's desire for steady little winnings, it nevertheless provides a thrilling and lucrative slot game.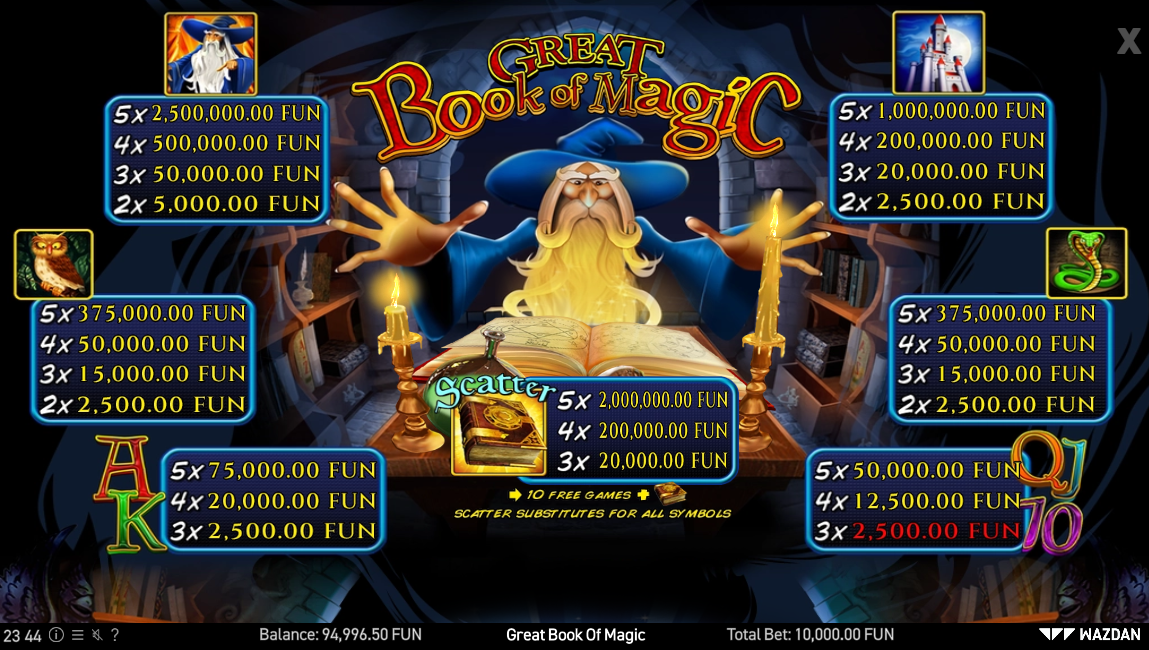 Alternatives
Here are a few different options to consider if you are seeking alternative slot games that provide a comparable magical experience to Great Book of Magic:
1. Book of Dead by Play'n GO:
Play'n GO's Book of Dead is a well-known slot machine game that looks like Great Book of Magic. It has an exciting concept based on an old Egyptian book of spells and delivers exciting gameplay with expanding symbols and free spins.
Book of Dead is a very entertaining game that will appeal to those looking for a magical adventure with a chance at great rewards.
2. Magic Portals by NetEnt:
Another intriguing slot game that blends magic and fantasy elements is Magic Portals by NetEnt. The game's special "Magic Portals" feature allows players to turn matched symbols into Wilds and start a bonus round.
Magic lovers will enjoy the immersive experience that the aesthetically stunning visuals and captivating soundtrack provide.
3. Merlin's Magic Respins by NextGen Gaming:
NextGen Gaming's Merlin's Magic Respins: Use Merlin's Magic Respins to enter the world of the famous magician. With its intriguing gameplay and symbols that are wizardry themed, this slot game promises a wonderful experience.
To maximize the number of Wild symbols and the size of their wins, players can use the SuperBet option. The Respins feature ups the thrill level of the game.
Conclusion
Through its wonderful theme, alluring aesthetics, and thrilling additional features, Great Book of Magic by Relax Wazdan offers players a spellbinding gaming experience. While its high volatility may not be suitable for many players, it will appeal to those who appreciate the rush of pursuing huge rewards.
Great Book of Magic offers an enthralling voyage into the world of magic and wealth with the opportunity for large rewards and a fair gaming atmosphere. Do not pass up the chance to learn the Great Book of Magic's secrets and get 50 free spins in return, so you can see whether bravery pays off.
FAQs
1. What is Great Book of Magic's RTP (Return to Player)?
Great Book of Magic's RTP, which represents the hypothetical average return to players over an extended period of gameplay, is [insert RTP percentage].
2. Can I use a mobile device to play Great Book of Magic?
Yes, Great Book of Magic is compatible with most mobile devices, so you can play it whenever and wherever you like.
3. Is it possible to play Great Book of Magic for free?
Yes, you can play Great Book of Magic in a demo or free-play mode at numerous online casinos without having to risk any real money.