Game Review
Gonzo's Quest: The Search For El Dorado!

Gonzo's Quest Canadian Slot Review
Get ready to explore the lost city and find some treasure my Amigo! Gonzo's Quest slot from NetEnt is a fantastic adventure you do not want to miss. Follow our hero Gonzo on his quest to find the ancient city of El Dorado, the Lost City of Gold. Along the way you'll uncover many ancient mysteries and you'll be sure to have a ton of fun along the way acquiring riches!
Gonzo's Quest slot features a unique avalanche reels which may be different from most traditional slots, but they are a lot of fun and can really multiply your winnings. The graphics look great and all of the symbols are based of Mayan legends. You'll truly feel the rush of excitement as you explore ancient lands on Gonzo's Quest.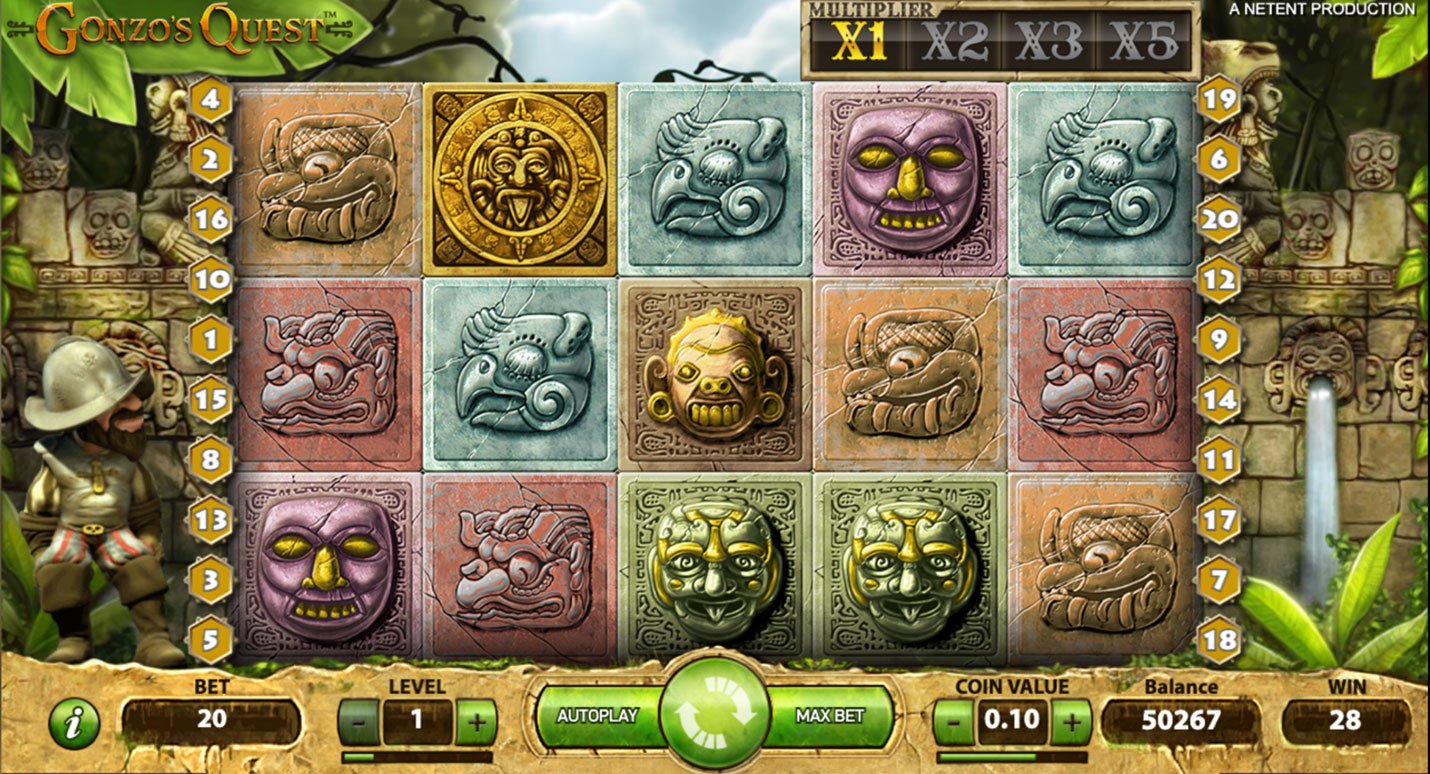 How To Play Gonzo's Quest Online Slot
While Gonzo's Quest slot may look like a regular online slot machine at first glance, with its five reels and three rows, once you begin playing you will know it is very different. This is because of the avalanche reels. Instead of regular reels that spin and lock into place, where you win based on the lines you bet on, this approach has stacks of blocks that fall down when you hit the spin button. If you hit one of the paylines, the blocks explode, and new blocks fall down into their place. Every time this happens you will receive a multiplier, with the first avalanche 1x, the second avalanche paying 2x, all the way up to 5x your original stake. So there is an opportunity to hit a big combo every time you hit the spin button!
The symbols include snakes, eagles and different Mayan gods. You also have a Wild symbol with a gold question mark in the middle that can be substituted for any symbol to help you complete a combination. These Wild symbols can help you win on multiple paylines as well which is good!
You can also trigger the Free Spin Bonus if you hit three of the Free Fall symbols in one payline. The Free Fall symbols must be hit in succession, starting with the leftmost reel. This is a pretty common bonus feature for most of the online slots in Canada.
Gonzo's Quest Graphics and Effects
The character of Gonzo is based off of the historical explorer Gonzalo Pizzaro, and the symbols of the games are all Mayan symbols. From the to the snakes to the Mayan gods, all of the stone textures symbols look really awesome, and are some of the best you will see playing online slots at PlayOJO.
The animations all look awesome as well, as the blocks exploding when you hit a combo leave a cloud of dust in their wake while you celebrate your win. There are also some great and funny animations, such as Gonzo jumping out and trying to catch gold in his hat, which is good for a laugh.
While there isn't any music in Gonzo's Quest, the sound effects are good and you can feel the force of the stone symbols falling into place and the winning paylines exploding. This is in addition to jungle sounds like insects chirping, birds cawing, and a general feel that you're in the middle of the jungle, even when you're at your home in Canada.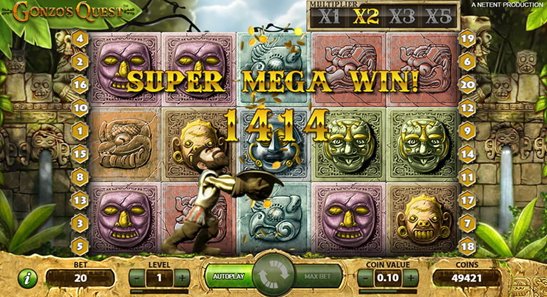 Gonzo's Quest Slot Bonus Features
One cool feature of Gonzo's Quest is the ability to use autoplay where you can choose between 10 and 1,000 automatic spins. This way you can sit back and relax as you watch the reels go and listen to the sounds of the jungle.
As mentioned before, when you hit three Free Fall symbols in a row, you will unlock the Free Spins Bonus round. Gonzo will walk to the middle of the screen and pull open the stones in the middle to reveal a new board behind it. You'll be given 10 free spins to begin with, and this is where you have the potential to win big. In the bonus round, avalanches are multiplied three time more than normal, as your first avalanche comes with a 3x bonus. That means your second avalanche is 6x, your third is 9x, and you can even get up to 15x your win with multipliers!
Because the Free Fall symbols have to be consecutive to trigger the bonus, this makes it a little harder than some games to reach the bonus, but if you do, you will be rewarded with some big potential wins!
Gonzo's Quest Slot Verdict
Gonzo's Quest is a classic among online slots players, because it was one of the first to introduce the avalanche feature and does it so well. The graphics and story will keep you excited and on your toes, and with their autoplay feature NetEnt has set you up with another great online slot at OJO, where you can also find many online casino games like roulette, blackjack, and more!
You can sit back and relax with the jungle sound effects while you try to claim your treasures on the adventure to the Lost City of Gold, El Dorado. And with Gonzo by your side you will be sure to have an amazing time on his quest. Plus, you get 50 Free Spins when you sign up at PlayOJO and make your first deposit, and there are no wagering requirements. So let's get to it Amigo, sign on, and play on!