Game Review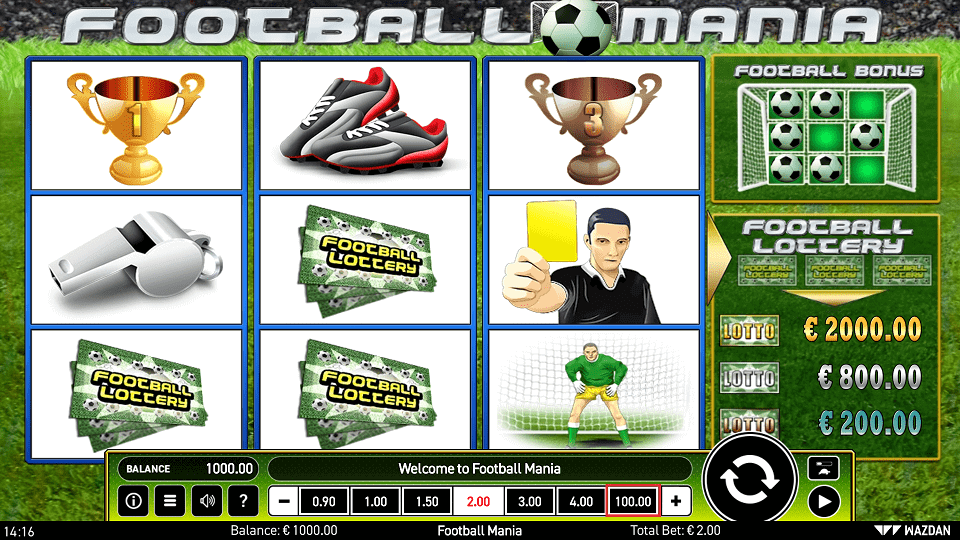 The thrilling online slot game Football Mania by Relax Wazdan captures the essence of the widely recognized sport. In addition to fascinating gameplay and amazing graphics, players can win big.
Pros:
Interesting theme with a football focus.
Lively visuals that breathe life into the game.
Exciting bonus features that improve the gameplay.
Cons:
A slot machine with a football theme is unlikely to appeal to players that are not a fan of football.
According to a review "Football Mania provides a rich and fulfilling experience for people who enjoy football and wish to mix their love for the game with the thrill of playing online slots."
Players are allowed to enter a virtual football field and become immersed in the game's action in the engaging online casino game Football Mania. The game's football-inspired theme, lively graphics, and exciting additional elements make for an enjoyable and fulfilling gaming experience.
You also benefit from PlayOJO's no wagering restrictions and fair gaming environment, which makes playing Football Mania even more appealing.
Football Mania's engaging gameplay will appeal to fans of football and sports-themed slots. Football Mania is a thrilling experience whether you are a football fan or just like games with a competitive edge.
Even though the game is enjoyable, football lovers might prefer it more because of its football-themed design. Players who want to fully immerse themselves in the game of football and push for significant wins are welcome at Football Mania.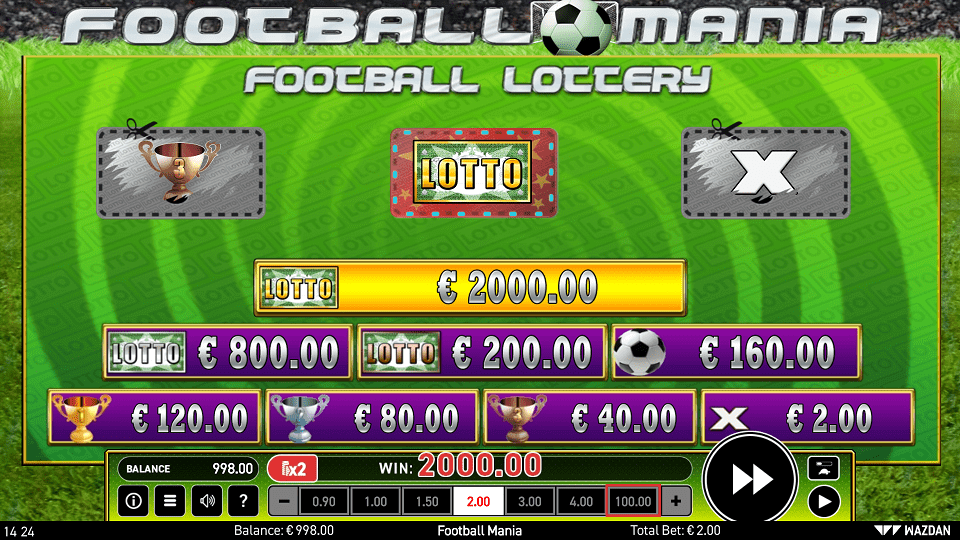 Football Mania Slot | Features and Benefits
Football-Themed Excitement and Immersive Visuals
With its engaging theme, Football Mania pulls players into the exciting world of football. The game's vibrant and eye-catching graphics produce an immersive atmosphere with cheering fans, football players, and recognizable symbols.
The meticulous attention to detail in the graphics improves the overall gameplay experience and gives players the impression that they are witnessing a real football game.
Fantastic Bonus Features
Football Mania's thrilling bonuses are one of its most notable qualities. The game offers several ways to increase profits and keep players amused, including free spins, multipliers, and unique symbols. The bonus features provide these added gameplay thrills and the potential for higher payouts.
Flexible Betting Options
Football Mania is appropriate for both casual and high-roller players because it lets users tailor their betting selections. Players can customize their wagers to fit their preferred spending limit and playing style thanks to movable coin values and bet levels, offering a unique and engaging experience.
High Volatility and Potential for Big Wins
Because of Football Mania's tremendous volatility, wins may not happen frequently, but they can still be meaningful when they do. Players that appreciate the rush of going after large rewards and are ready to accept the danger involved will find this part of the game appealing.
Football Mania has the potential to bring players significant victories, which would make the journey even more satisfying for those who combine good fortune and tenacity.
Gamble Feature
Football Mania has a Gamble feature for players who want to increase their earnings. Players can choose to wager their winnings after a victorious spin by guessing the color or suit of a playing card. For gamblers, an accurate guess can increase their winnings and add added excitement.
Engaging and Profitable Gameplay Experience
In general, Football Mania offers a fun and satisfying gaming experience. Every turn of the reels is a thrilling experience because of the captivating football theme, aesthetically pleasing graphics, and intriguing bonuses. Whether you are a passionate football fan or you just like action-packed slots, Football Mania offers both fronts.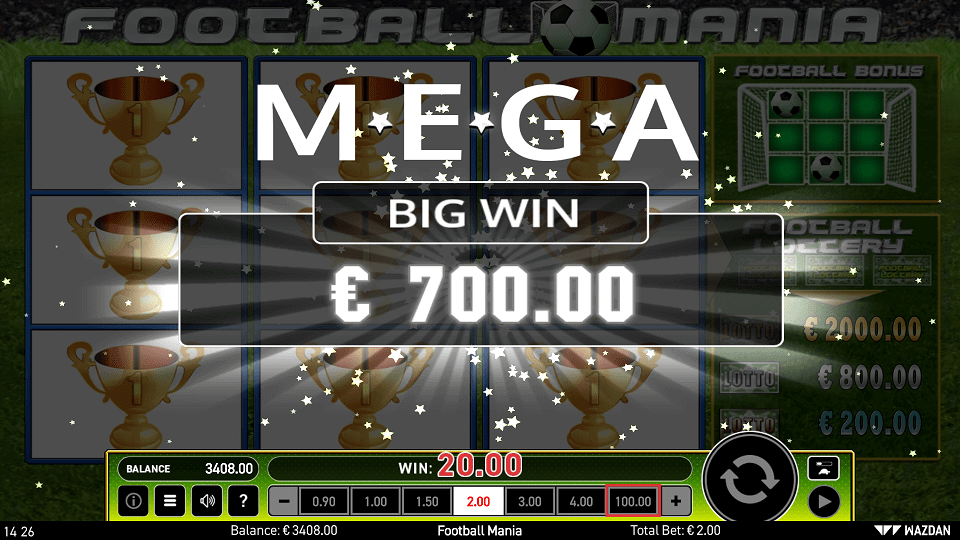 Alternatives
If you are in search of similar slot games that offer the same level of excitement as Football Mania, here are a few alternatives worth considering:
Champions of Rome by Yggdrasil:

The gladiatorial battle excitement is brought to the reels in Champions of Rome by Yggdrasil. Champions of Rome provides an exciting and challenging experience with its amazing graphics, intense gameplay, and extensive bonus features.

Football Star Deluxe by Games Global:

This mixes a feature-rich slot game with a passion for football. This slot is a fantastic option for football fans thanks to its vibrant graphics, interesting gameplay, and diversity of additional bonuses.

Super Striker by NetEnt:

Step onto the football field in Super Striker by NetEnt to experience the rush of scoring goals. With its engaging gameplay, vintage-inspired aesthetics, and a bonus game that mimics penalty shootouts, this slot game perfectly captures the spirit of the game.
Conclusion
For those who love football and want a high-octane gaming experience, Football Mania by Relax Wazdan is a must-try slot game. It is a top pick for anyone wishing to mix their passion for football with online slots because of its captivating aesthetics, exhilarating extra features, and potential for large payouts. So, lace up your virtual boots, get ready to play, and try your luck in Football Mania and claim your 50 free spins to start the game.
FAQs
Is Football Mania a free game?

Football Mania can be played without risking real money at many online casinos thanks to their demo or free play modes. For availability, check with your chosen online casino.

Can I use a mobile device to play Football Mania?

You can play Football Mania on your smartphone or tablet anywhere because it is fully suited for mobile play.

Is Football Mania suited for casual players?

Football Mania is intended to offer a thrilling gaming experience, however, casual gamers looking for multiple little wins may not prefer it due to its high volatility.