Game Review
Dynamite Riches: Let's Go Digging For Gold!

Dynamite Riches Slot Review
Hold on to your hats Amigo! We're going digging for gold, and you never know what kind of treasure you'll find deep within these old mines in Dynamite Riches online slot.
You'll be blasting and digging your way to gold and jewels, with excellent graphics and effects from Red Tiger Gaming. This online slot also features tons of different bonuses, a handful of different Wild symbols, and some great multipliers too! No worry about getting dirty here, you'll be able to stay clean while mining for these riches in the comfort of your home in Canada!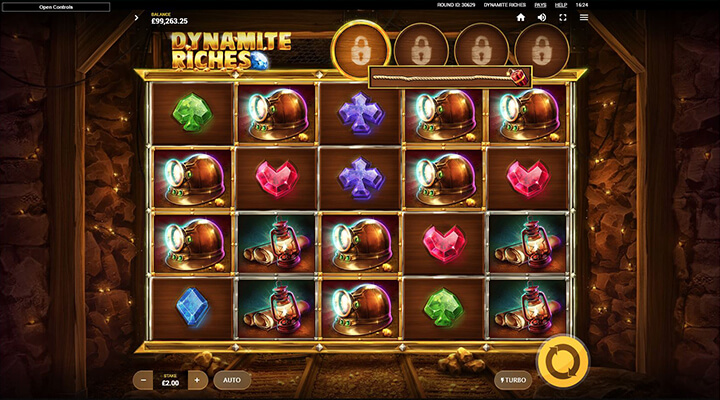 How To Play Dynamite Riches Online Slot
Dynamite Riches online slot at OJO is an exciting and fun adventure that has a lot of extra goodies hidden within. It's a standard sized five reels by four rows and has an RTP of 95.7%. It features a decent limit with bets between $0.20 and $20, which is a great range for beginner and intermediate slots players, and high rollers may want to look elsewhere for their slotsplay fun.
The small symbols are different jewels in the shape of card suites, hearts, diamonds, spades, and clubs. Your premium symbols are a lamp, a shovel, a hard hat, a bag of gold, and the highest paying symbol of all is a bearded miner. With these symbols you can win across 20 different paylines. If you happen to get lucky and land 5 of a kind miner symbols (or have some Wild symbols too) you will win 300x your bet!
There is also a Gold Spins scatter symbol, and if you land three or more of these in a single spin, you'll trigger the Gold Spins Bonus Round. Speaking of Free Spins, did you know that you can get 50 Free Spins when you sign up at OJO and make your first deposit? Plus there are no wagering requirements at PlayOJO, and a bunch of fun online casino games like roulette, baccarat and blackjack!
The game really gets crazy in the amount of different Wild and bonus features it has, with a lot more variety than most online slots in Canada. There are three separate Wild symbols: a dynamite Wild, a gold bar Wild, and a diamond Wild.
Dynamite Riches Online Slot Graphics and Effects
As with other online slots from Red Tiger Gaming, this game looks really sharp. The gold mine background has some sparkle to it, and all of the reels run very smoothly. You'll love seeing the dynamite explosions and getting all of the bonus features that coming along with it.
There is a nice banjo tune playing softly in the background which gives the nice effect of a gold prospector. It will pick up pace during each spin to really add some excitement and you'll hear a great little riff after every win. There are also some appropriate sound effects in the background to make you feel like you're in a real gold mine.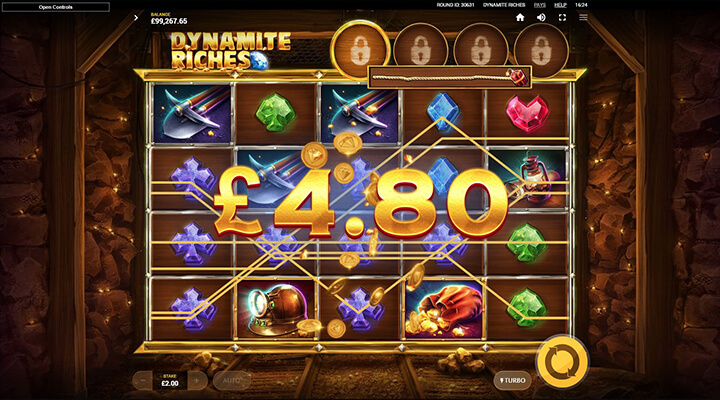 Dynamite Riches Slot Extra Features
As we mentioned before, Dynamite Riches has a plethora of extra features, there are almost too many to keep track of!
We'll begin with the dynamite Wild symbol, which is the best of the three Wilds. Each time you get a dynamite Wild, there is a dynamite bar at the top, and some of the wick will burn off, getting you closer to the stick of dynamite. This can happen accumulatively over the game, and it doesn't reset unless you change your wager amount. Once you burn the whole fuse and detonate the dynamite at the top, you'll unlock the first bonus feature which blasts away all the low paying symbols and remove them from the game. You'll then get a new stick of dynamite to try to detonate over the course of the game. The next time you get an explosion, you'll unlock the second bonus feature which releases random Wilds onto the reels. After a third explosion, you'll unlock a compass which multiplies your winnings by up to 10x. After a fourth detonation, you'll get the final bonus, which are Mega and Colossal Wilds. These are 2x2 and 3x3 Wilds that go over the reels and can help you achieve some big potential profits!
Dynamite Riches also has a Gold Spins scatter symbol, and if you land three or more of these in a single spin, you'll trigger the Gold Spins Bonus Round. You'll start with 8 Free Spins, and you'll be hoping for dynamite Wilds here too. Just like the base game, you will trigger one of the four bonus features that we mentioned above. You can also unlock more Free Spins if you land three more scatter symbols during the Gold Spins Bonus Round.
You can click the spin button between each round, or you can take advantage of the autospin feature to save you some time and take advantage of getting as many spins in as possible. You can set a loss limit or a single win limit when you're on the autospin mode. It also has an extra Turbo feature, which is a fast forward button on the side that will make the reels go faster, and reduce the amount of time between spins to really get you moving.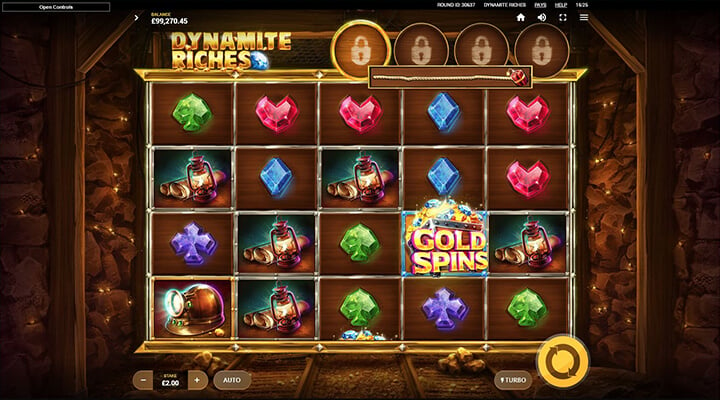 Dynamite Riches Online Slot Verdict
So after digging deep within the gold mines, what do we think of this online slot, Amigo? It certainly has a lot to offer, with a ton of different bonuses, three separate Wild symbols, and some large payouts in the base game. The graphics are great as always from Red Tiger Gaming, and the autospin feature is nice for players that want to play as many spins as they can.
With so many ways to win real money in real time, this is a must try slot at OJO! And don't forget you get 50 Free Spins when you sign up at PlayOJO and make your first deposit. And there are no wagering requirements! So, what are you waiting for Amigo, let's play Dynamite Riches and blast away!