Game Review
Blazing Bull Slot: A Wild Ride – Hold on Tight!

Strap your boots on tight Amigo, we're going on a blazing adventure with wild animals and pristine views. Blazing Bull online slot is the latest entry from Kalamba Games, the makers of other online slots like Machina Megaways.
Blazing Bull features incredible graphics and effects to get your heart pumping, awesome Free Spin Bonuses, stacked symbols, and lots of extra features. Plus, this game has an exceptional 97.42% RTP, which will definitely get players talking.
It's a simple concept with a modern flair that packs a ton of punch. So, watch out for those Blazing Bulls, because they're revved up and ready to charge my friend! And while you're winning real money in real time at OJO, don't forget to check out their online casino games like online roulette, online blackjack, and online baccarat, plus many more!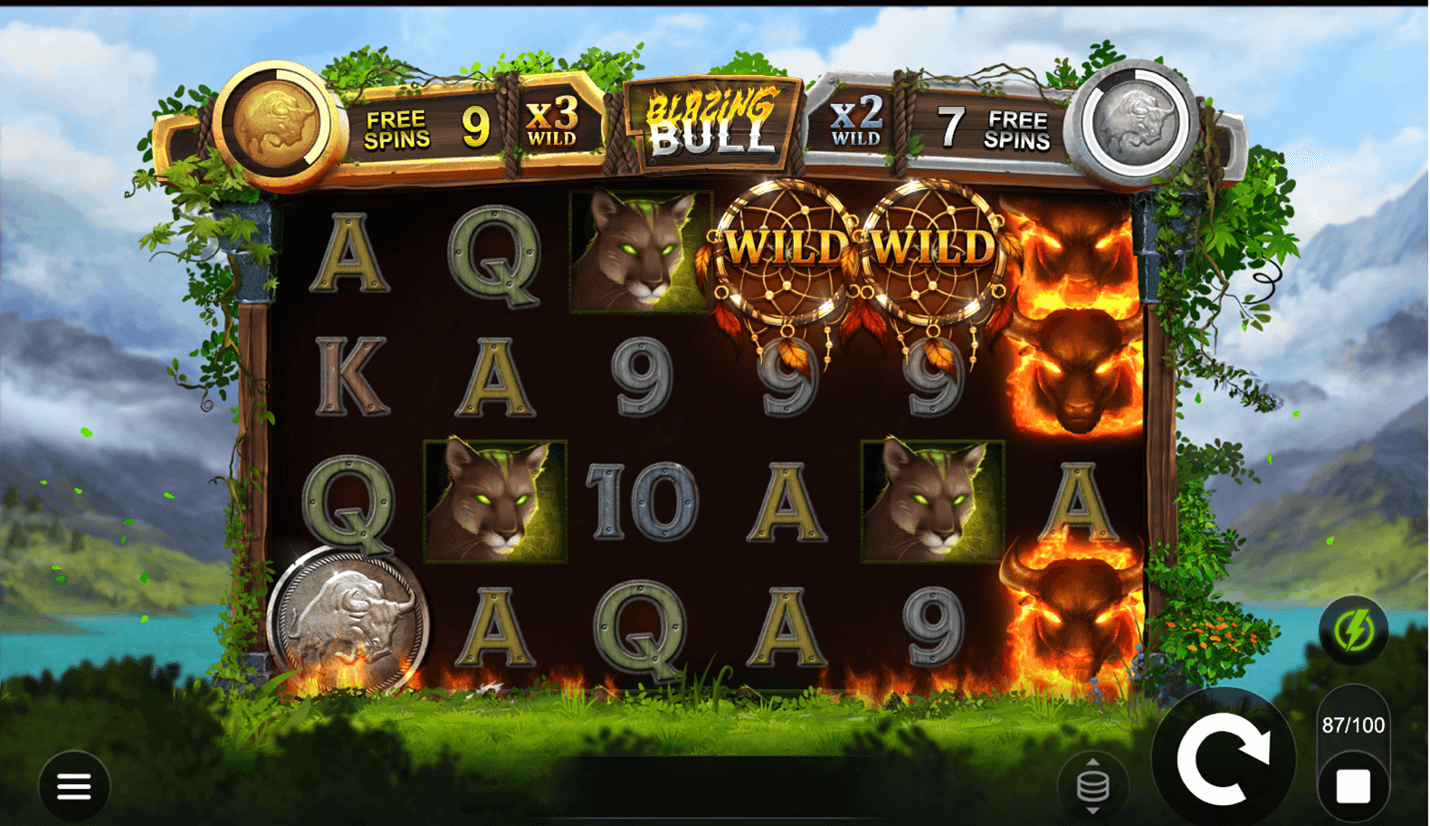 How To play Blazing Bull Online Slot
Blazing Bull has 6 reels by 4 rows, which makes it slightly larger than most online slots in Canada. What makes this game special is that you can land consecutive symbols on any row from left to right, so gone are the traditional paylines you are used to. With so many possibilities, you can actually win up to 4096 different ways!
The symbols start with the usual suspects of cards 9, 10, Jack, Queen, King, and Ace. For the premium symbols you have some wild animals to watch for, the wolf, cougar, eagle, bear, and finally of course, the Blazing Bull right at the top. Land 6 bulls across the reels and you'll win 5x your stake.
There are also a couple different types of Wild symbols. The Wild symbol looks like a dreamcacther, and it can substitute for any symbol listed above. But it can also be accompanied by a 2x or 3x symbol on it, which will count as two or three of the symbol it's replacing. So watch out for these, they can make any combo a big one!
The main goal in this game is to get to the Free Spin Bonus round though, and there are a few ways to do that. There are two different scatter symbols, a silver coin and a gold coin. You'll see each one has an accompanying meter at the top of the board. Each time one lands during a spin, the meter will fill up, and if you hit three of a kind you will trigger the Free Spin Bonus round! We will go into more details about that in the Special Features section.
Blazing Bull Slot Graphics and Effects
The graphics in Blazing Bull are truly a sight to behold. You overlook a mountainous lake with clouds, and eagles flying around. It looks like something out of a dreamscape. All of the animals are 3D and come to life when they land a combo, and are engulfed in blazing fire.
The whole thing has a lot going at once, but it all looks beautiful and runs smoothly with no clipping. Even the greenery that wraps around the reels moves with the wind. Gone are the days of bland 2D slots, because once you play this game, you will never want to go back!
The music is a fun tribal beat that plays serenely in the background, but picks up with intensity when you hit the silver or gold scatter symbols. The whole package works nicely together with the wild animals and nice lakeside views.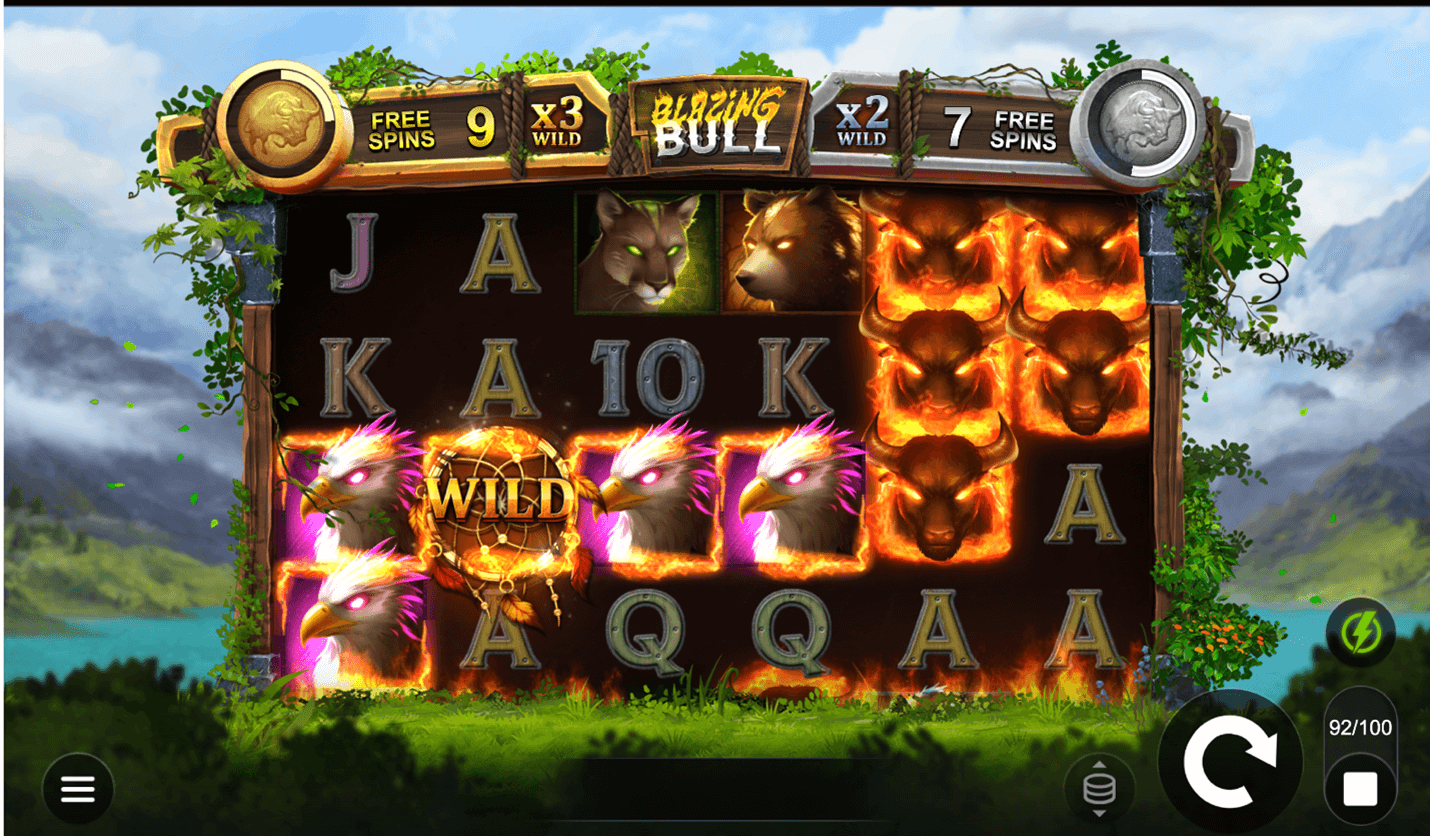 Blazing Bull Slot Extra Features
Blazing Bull slot is a wild ride of fun adventures, but to really grab this game by the horns, you'll want to take advantage of the Free Spin Bonus round, and other extra features. To trigger the bonus round, you'll need to land a minimum of three silver coin, or three gold coin scatter symbols in one spin. You can get more, but you just need three to get there. If you nail three silver coins, you'll get a minimum of 7 Free Spins, up to a potential of 20. If you land on three gold coins, you will get a minimum of 8 Free Spins, with a chance to get 30. Speaking of Free Spins, don't forget that you will get 50 Free Spins for any slot when you sign up at PlayOJO and make your first deposit. And the best part is there are no wagering requirements!
Both the silver and gold Free Spin Bonus Rounds also come with an added benefit. In the silver Bonus Round, Wild symbols will be upgraded to 2x multiplier Wilds, and in the gold bonus round they will be upgraded to 3x multipliers. The potential wins in the Free Spin Bonus round are as follows:
Two bonus symbols award an extra two Free Spins
Three bonus symbols award a 2x multiplied win and three Free Spins
Four bonus symbols award a 5x multiplied win and eight Free Spins
Five bonus symbols award a 6x multiplied win and 10 Free Spins
Six bonus symbols award a 50x multiplied win and 15 Free Spins!
So as you can see, the Blazing Bull base game is good, but if you make it to the Free Spin Bonus round, it can be very lucrative.
Blazing Bull online slot also has an autoplay which you can set up to 100 spins if you just want to sit back and watch the fun without clicking for every spin. You also have the ability to set loss limits and single win limits, which a lot of other online slots at OJO have as well. You can combine this with the Turbo feature which speeds up the spins and means you can fit even more Blazing Bull into your lunch break!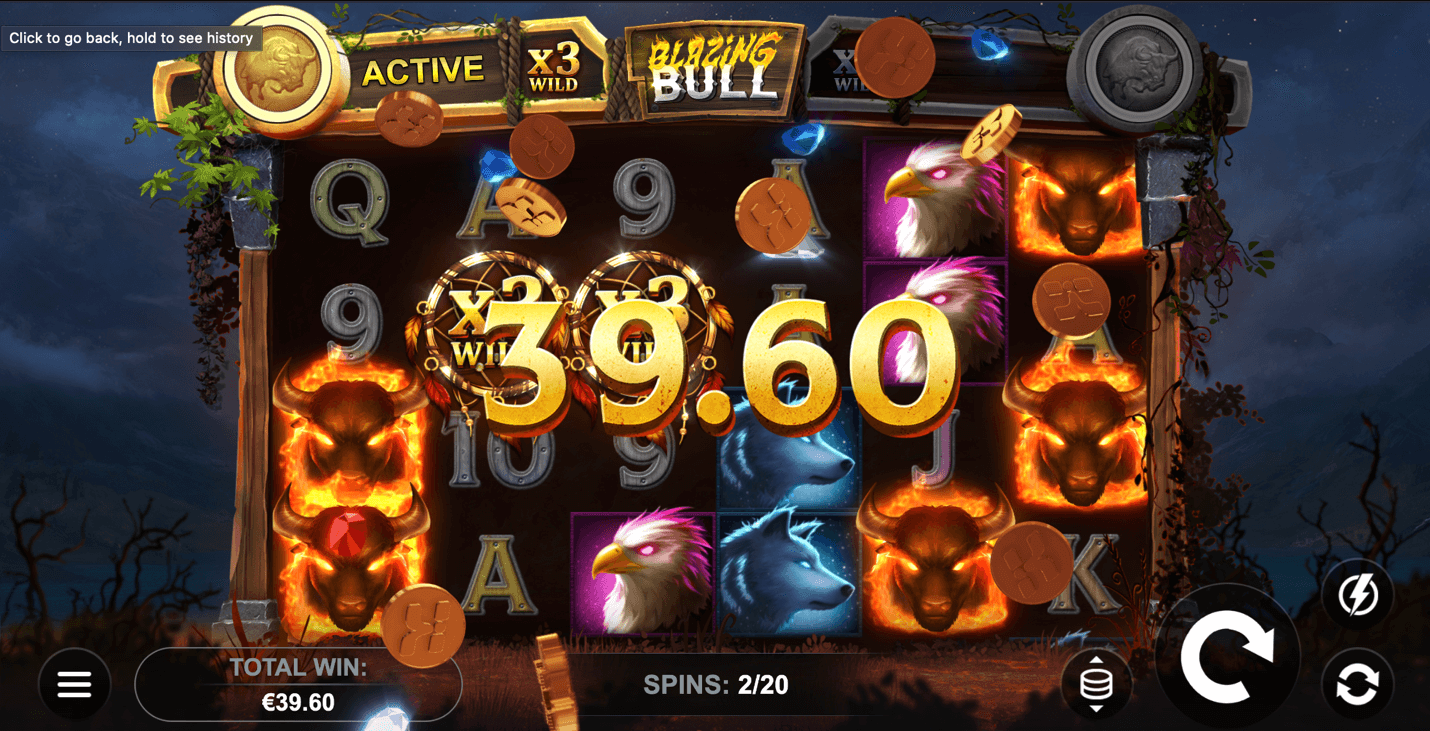 Blazing Bull Online Slot Verdict
So, what do we think of this blazing hot slot, Amigo? Canadians are definitely going to love this online slot from Kalamba Games. The graphics and effects are incredible, and with an RTP of over 97%, you're going to want to try this slot as soon as possible!
Plus, there are lots of bonus features to keep you interested. Free Spin Bonuses, multipliers, stacked symbols, autoplay, and more, this game definitely gets the OJO stamp of approval! And don't forget, you'll get 50 Free Spins when you sign up at PlayOJO, and there are no wagering requirements. So grab this game by the horns, and play Blazing Bull online slot today!