Astropay
AstroPay casino payments – P(l)ay Safe!
When you go to pay merchants online, you must've seen AstroPay card as a payment method. Have you ever wondered what it is and how it works? If you have, you've been on OJO's radar for quite some time now.
AstroPay is one of OJO's favourite payment methods at online casino in Canada because you can use it as both an e-wallet and an online payment method. Very few payment providers offer such a level of accessibility to our Canadian amigos.
If you've had your eyes on this payment method, then you should read OJO's guide to learn how to use it at PlayOJO.
Getting Started with AstroPay
To start using AstroPay, you'll first need to download the app from the Google Play Store or Apple Store. It's called 'AstroPay Card'. You can also directly navigate to the download page from the website.
If you're not willing to occupy any more space on your smartphone, you can always use it from your desktop. OJO likes to be on his phone all the time so he uses the app.
After you open an account, you can get started with the funding. We're going to go over the registration process because it's pretty much the same as every other website registration process. You'll need to provide your phone number, name, address, etc. information.
After your account is up and running, there are two tabs that you can switch between. One says 'Cards' while the other one says 'Wallet'. On the card's menu, you can buy AstroPay virtual prepaid cards of different values.
AstroPay Card banking method
The best thing is, you get a plethora of payment methods to buy the AstroPay cards. Use get to use anything from your Visa/Mastercard cards to your Skrill/Neteller account, and whatnot!
After you buy the card, you'll receive a unique 16-digit PIN carrying the balance you just added.
On the contrary, you can use the wallet option to fund your AstroPay account directly. OJO says it's the way to go because you can withdraw your funds from PlayOJO this way as well.
Now that your AstroPay card is ready, go to PlayOJO and log in.
What? You don't have an account yet? Are you serious? OJO would be very disappointed if he hears this. Go ahead make a quick account!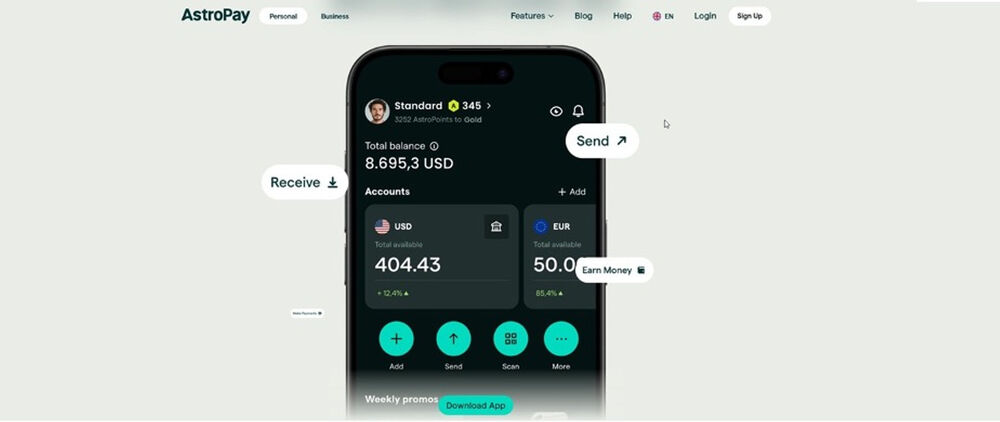 Casino Deposits with AstroPay
By now, you already know that OJO offer AstroPay banking method. So, you'll certainly find the option on the cashier page of your account.
Log into your PlayOJO account and select AstroPay.
Enter the amount you want to deposit. Press "Continue" to get redirected to the AstroPay portal.
On this portal, you'll first need to verify your mobile number. An SMS will be sent to your number for this process. Re-enter the code on this page to complete the verification.
Then, you'll be asked to enter the 16-digit code of your AstroPay card. Make sure you double check the digits before moving forward.
Once the verification is done, you can press submit and the money will show up in your account immediately.
Casino Withdrawals with AstroPay
Both the deposit and withdrawal process under OJO's supervision is more or less the same. One thing to note here is that you can't use AstroPay cards for the withdrawal. Why? Because they're prepaid cards amigos! You'll need to use the wallet feature of your AstroPay account for withdrawal after you're done playing the slots.
Go to your PlayOJO cashier page, select AstroPay as your withdrawal method. Now, enter the amount you want to withdraw, your phone number (the number connected to your AstroPay account), and select your country.
Now, if you go to your wallet, the money should be readily available in your account because there's no pending period at PlayOJO. How awesome is that?
AstroPay casino payments FAQ
How much can I deposit at Once?

As much as you want! As long as your bank allows the deposit, you can use it on AstroPay.

Does AstroPay support CAD?

Yes, it does. AstroPay supports most major currencies all over the world and it includes CAD.

Are there fees to use this AstroPay card?

No! No one can charge any fee from you under OJO's watch.

How long does the transactions take to reach my account?

AstroPay casino transactions are processed immediately so there's no waiting time!
Conclusion
Paying with AstroPay at the casino in Canada is one of the most convenient things you can do. The banking option is very much aware of the pain points OJO's Canadian amigos face all the time and it has tried to solve it.