Visa
Fast and safe Visa Casino payments at PlayOJO
OJO is someone who always aims for the first place. The word 2nd is not in OJO's dictionary. And it shows on the PlayOJO banking page because we only have the finest of all payment methods. This page is for Visa, the crème de la crème when it comes to online payments.
So, buckle your belts and get comfortable because we're driving right into the world of the best Visa casino in Canada!

| | MINIMUM |
| --- | --- |
| DEPOSITS | $10 |
| WITHDRAWLS | $0 |
Getting Started with Visa casino payments
Since 1958, Visa Inc. has been providing excellent services to its users. What started as the BankAmericard program in California has now expanded into the largest electronic payment network in the world!
Visa casinos are abundant in Canada thanks to the widespread popularity of the banking method. As PlayOJO sits on the throne for best Canadian online casino, Visa is our primary choice of method for all of our amigos. Part of the reason is Visa's warm welcome to the iGaming industry.
OJO loves to see the players happy. And do you know where happy players come from? PlayOJO Canada where you can use Visa! Yes, Visa is one of those casino banking networks that can trigger an instant smile on your face because we're 99% sure you have a Visa credit or debit card in your wallet right now!
How to make A Casino deposit with Visa at PlayOJO?
To enjoy the spectacular itinerary of games at PlayOJO Canada, it's crucial that you understand what's at stake. You can't run into us without knowing how to deposit with your Visa card.
Thankfully, the process is as streamlined as it can be. The primary requirement is that you have a Visa card. If you don't, just ask the nearest bank for one. Getting Visa credit cards is a roller coaster ride in itself because you need to select between Visa Classic, Gold, Platinum, Infinite, and Infinite Privilege.
Also, there are Visa Debit, Visa Prepaid, and Visa Gift Cards. OJO is a huge advocate of inclusiveness so you can use any of them at PlayOJO. Here are the steps for depositing with this method.
To get started, make sure your card has the necessary funds.
Log into your PlayOJO account and navigate to the banking page. The first option you'll see is Visa because it's just the best.
Select the method, input necessary information such as your 16-digit card number, its expiry date, the CVC number, and your full name as written on the card.
The issuer bank will verify the transaction by sending you a unique code. Enter it on PlayOJO to authenticate the transaction.
Your OJO account is now funded with your desired amount!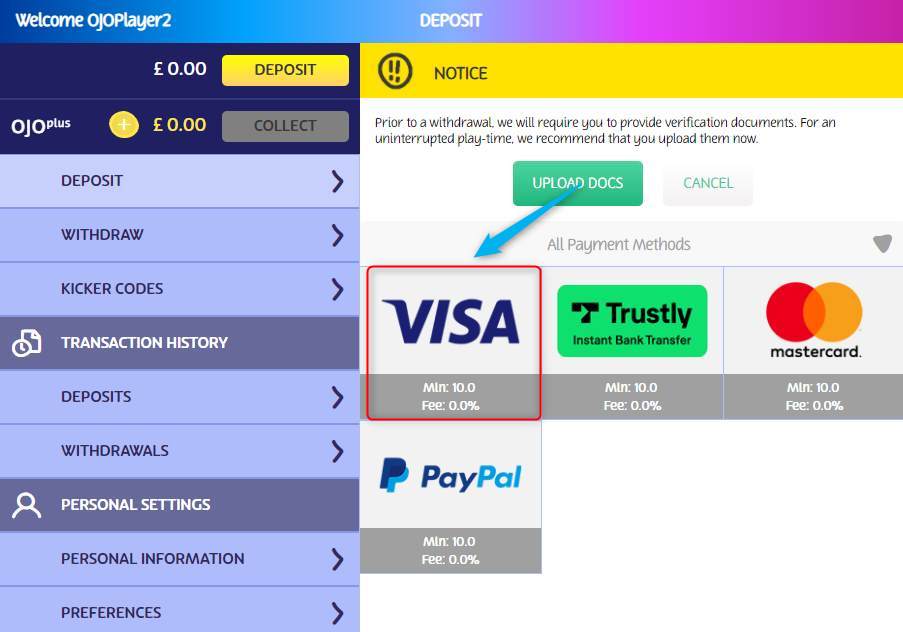 How to make casino withdrawal with Visa?
So, you liked it, huh? That's why you're trying to withdraw your funds through Visa as well. Worry not because Visa is the best with it comes to withdrawals as well. Very similar to how you did the deposit, you're going to request a withdrawal.
Login to your OJO account.
Go to your accounts "Cash Management" section and Select "Withdraw".
Select Visa payment method. Your card should already be saved because OJO remembers when you made the deposit.
Just enter your desired withdrawal amount and wait for the funds to be credited.
Speaking of waiting, do you know how long your deposit will take to reach your PlayOJO account? 0 seconds! Quite a long wait, isn't it?
And for withdrawals, OJO will process it right after you place the request. Your balance will be adjusted at the same time as well. However, due to further processing from Visa's end, it might take a few days for your credit card to be funded.
Visa casino payments FAQ
What is the minimum deposit for Visa at the casino?
As long as you have $10 on your Visa credit card, you're ready to roll at PlayOJO.
How many days do I have to wait for the withdrawal with Visa casino payment?
Just to be clear, OJO is not the one making you wait. Visa processing may take between 2 to 7 business days.
Can I use Visa prepaid for withdrawals?
Unfortunately, no. Prepaid methods don't work for withdrawals at PlayOJO.
Conclusion
Being a Visa casino, PlayOJO knows how crazy players can get in Canada. The craze is justified because OJO has assembled the best of games from the iGaming industry. To fuel your fascination, PlayOJO offers Visa as a deposit method to get you started immediately.