Game Review
Release The Kraken Slot Review
Aye aye captain! It's time to hit the open water and go searching for the mighty beasts that lie below while playing Release The Kraken Slot on OJO. The game was developed by Pragmatic Play, and is based on the legend of the Kraken, a giant octopus-like creature that dates back to Nordic legends from the 12th century.
Even though the legend is old, the stories have terrorized sailors ever since, and now it is time to feel their wrath while playing this online slot at OJO! But who knows, the Kraken may just help you uncover underwater treasures too, so let's dive right in!
With fantastic 3D graphics, so many features like autoplay, Turbo Spin, and more than 5 different Bonus Rounds, Release The Kraken is a Canadian classic. An online slot that you will definitely be recommending to your friends!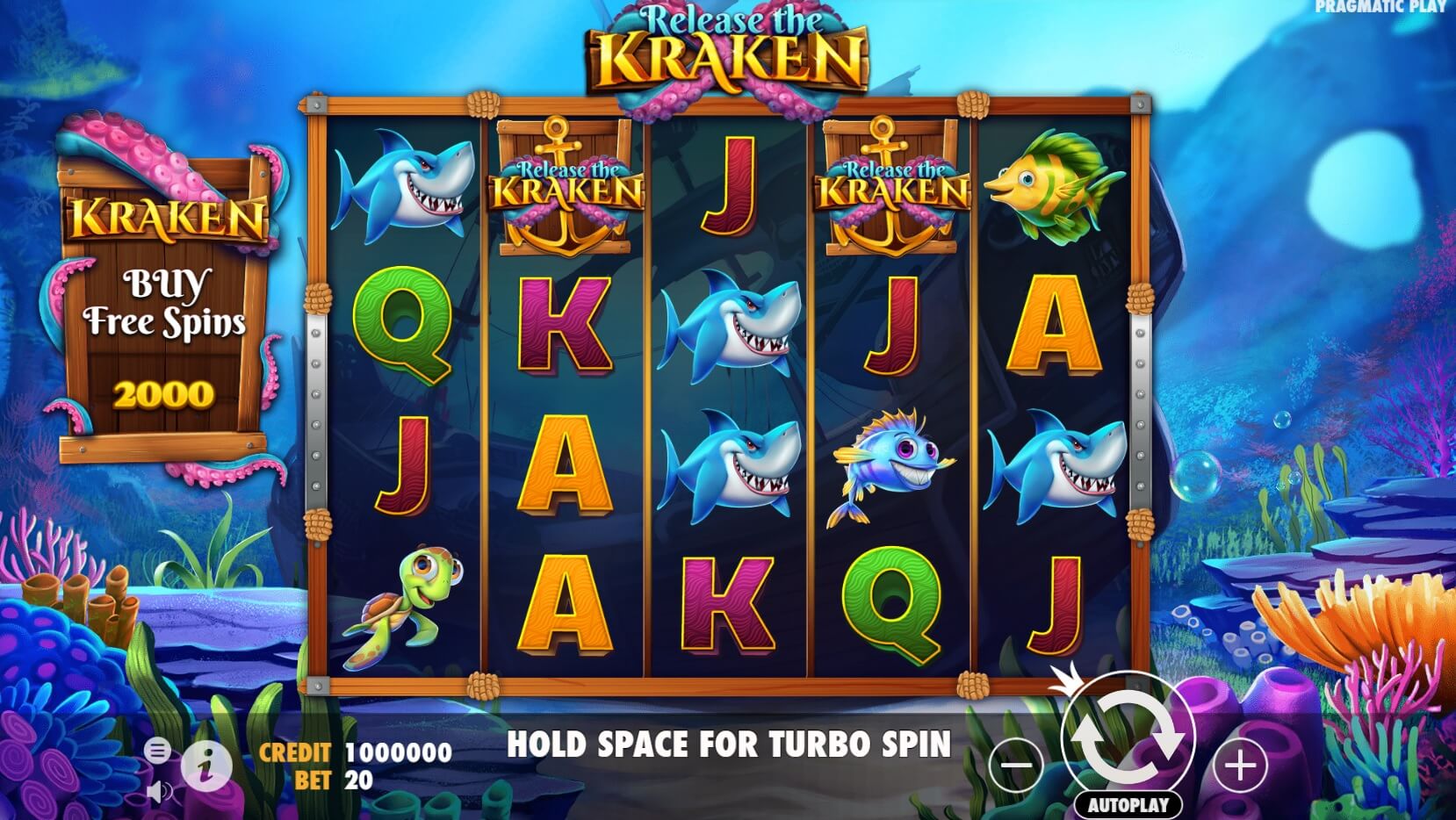 How to Play Release The Kraken Slot
The game is set at the bed of the sea with five reels and four rows, which is a pretty standard size for online slots in Canada. Our sailors can choose to bet between 1-10 coins per payline and the base game plays with 20 paylines (though the Free Spin Bonus round will double to 40 paylines, but we will get into that later, Amigo!). You can bet a wide range each spin, from $0.20 to $100 per spin, so this is a great slot for both beginner players and old pros alike.
The symbols start with the normal card values of Jack, Queen, King, and Ace, but what you're really after are the sea creatures in this online slot. These symbols are the yellow fish, blue fish, turtle, shark, and the biggest symbol by far is the Release The Kraken anchor logo, which can win you up to 25x your stake! There is also a Wild symbol which can substitute for any of the symbols already mentioned.
Then you have three extra symbols, and that's where the treasure really lies! The three symbols are the Bonus symbol, the Free Spins symbol, and the Chest Bonus symbol. If you get a Bonus symbol on reels 1 and 3, and then a Free Spins or Chest Bonus symbol on reel 5 then you will unlock a Bonus Free Spins Round, where there is tons of potential treasure to be found!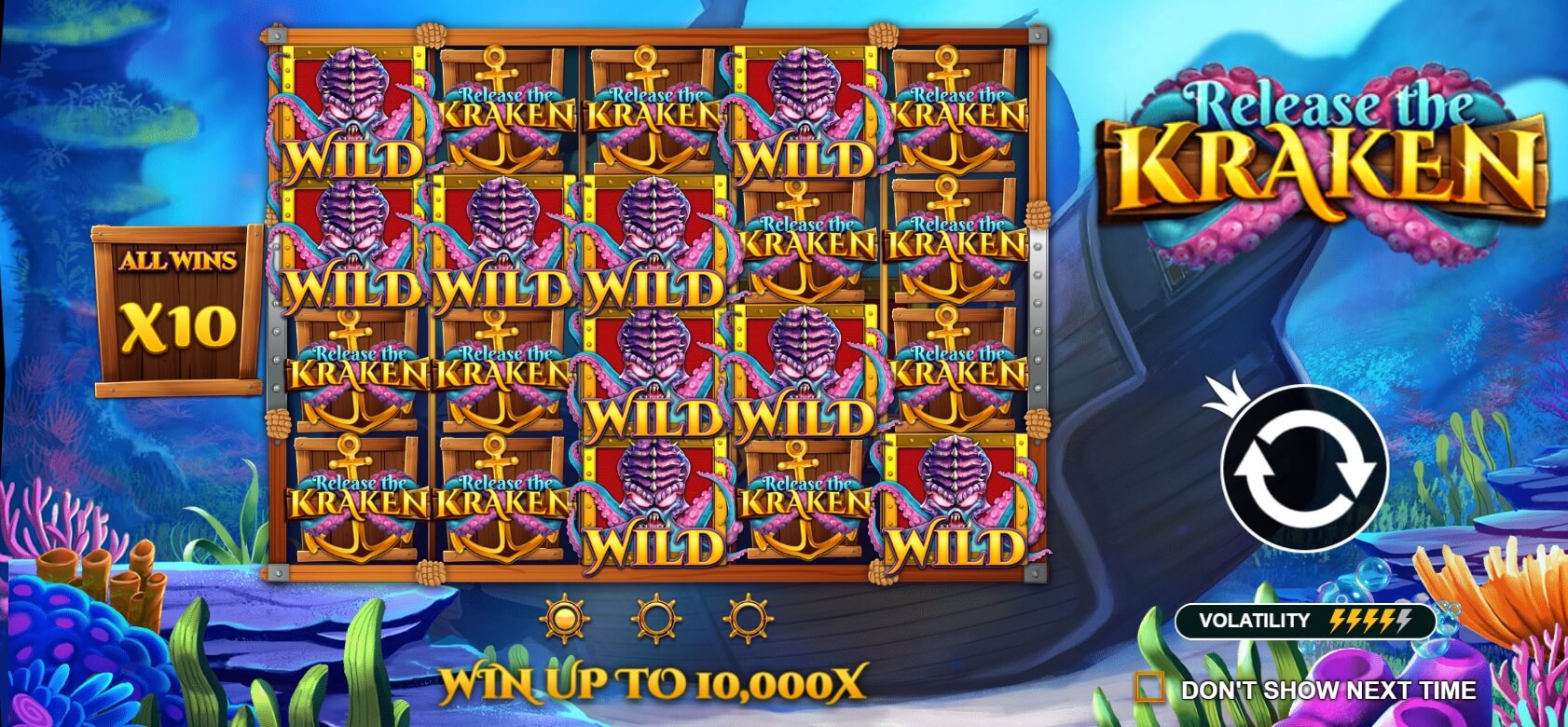 Release The Kraken Slot Graphics and Effects
The graphics in Release The Kraken slot make you feel like you're underwater battling the Kraken himself, and they do a great job of incorporating underwater effects like bubbles and seaweed dancing in the background. The sea animals are cartoony and cute, and even a deadly shark will make you smile at how friendly he looks.
There is no music in the game, but the underwater sound effects make you feel like you're surrounded by underwater creatures at the bottom of the vast ocean.
Release The Kraken Slot Special Features
Compared to most other online slots in Canada, Release The Kraken has a plethora of extra features, there are almost too many to keep track of!
The first is an autoplay feature where you can set from 10 to 1000 spins to go automatically. You can set this to the normal spin, Quick Spin mode, or the even faster Turbo Spin mode. You can also hold space bar for a Turbo Spin where the spins go extremely fast and you can play more spins in a single session. This is good for players that don't have a lot of time and want the game to go as quickly as possible, or for anyone that is a little impatient with the regular pace of play.
The real money is made in the Bonus rounds, and there are lots of different types. The first is the Random Spin feature where three Kraken tentacles will drop down randomly at any point, holding signs that say "Pick Me", and the choice is all yours! You will choose to unlock one of the following modifiers:
Kraken Locking Wilds: A new Wild symbol is added to the game when the feature starts, the reels keep spinning while chests appear and randomly award different prizes like different multipliers. All the combinations are paid when the "collect" box is opened.
Colossal Kraken Wilds: A 3x4 Wild symbol is randomly placed on the board and stays on for the remainder of the feature. It does not always cover 12 squares though, as some of it may be placed off the board.
Infectious Kraken Wilds: This has at least one wild symbol drop onto the board, and the cool thing about this one is that is "infects" all the adjacent squares touching it so that they become wilds as well. In reality though, this one is not much different that the Colossal Kraken feature.
The Wilds in these features will substitute for all symbols except the Bonus, Free Spins and Chest Bonus symbols.
Another special feature in the game is the Sunken Treasure Bonus that is triggered when a Bonus symbol lands on reels 1 and 3, and a Chest Bonus appears on reel 5. This feature will give the player a choice between three different chests that will award a random prize value inside, which is closed and filled with a new amount each time. There is no set limit to the amount of chests you can open, but eventually you will open one that says "collect" and the round will end, so you want to try to avoid that one as long as possible!
But there is one bonus that is bigger than all the others, matey! The biggest bonus in the game is the Roaming Kraken Free Spins Bonus, and there is loads of treasure to be found here. It is triggered when a Bonus symbol lands on reels 1 and 3, and a Free Spins symbol appears on reel 5. Players are shown a screen of different chests and you can choose which ones you want to open. They will each show a different amount of spins, usually either 1 or 2, and players will open chests until they open one that says "collect". Then the amount of free spins are totalled up and you will get that many spins in the bonus round. The best part about this round is that you get 40 paylines instead of the regular 20, so you will double your chances to win here. Every time you hit a Wild symbol in the bonus round it stays and increases your multiplier by one, so the potential to win is multiplied every time.
There is also the option to pay to go straight to the Roaming Kraken Free Spin Bonus, which is a nice feature for players to have when they're feeling a little luckier than usual!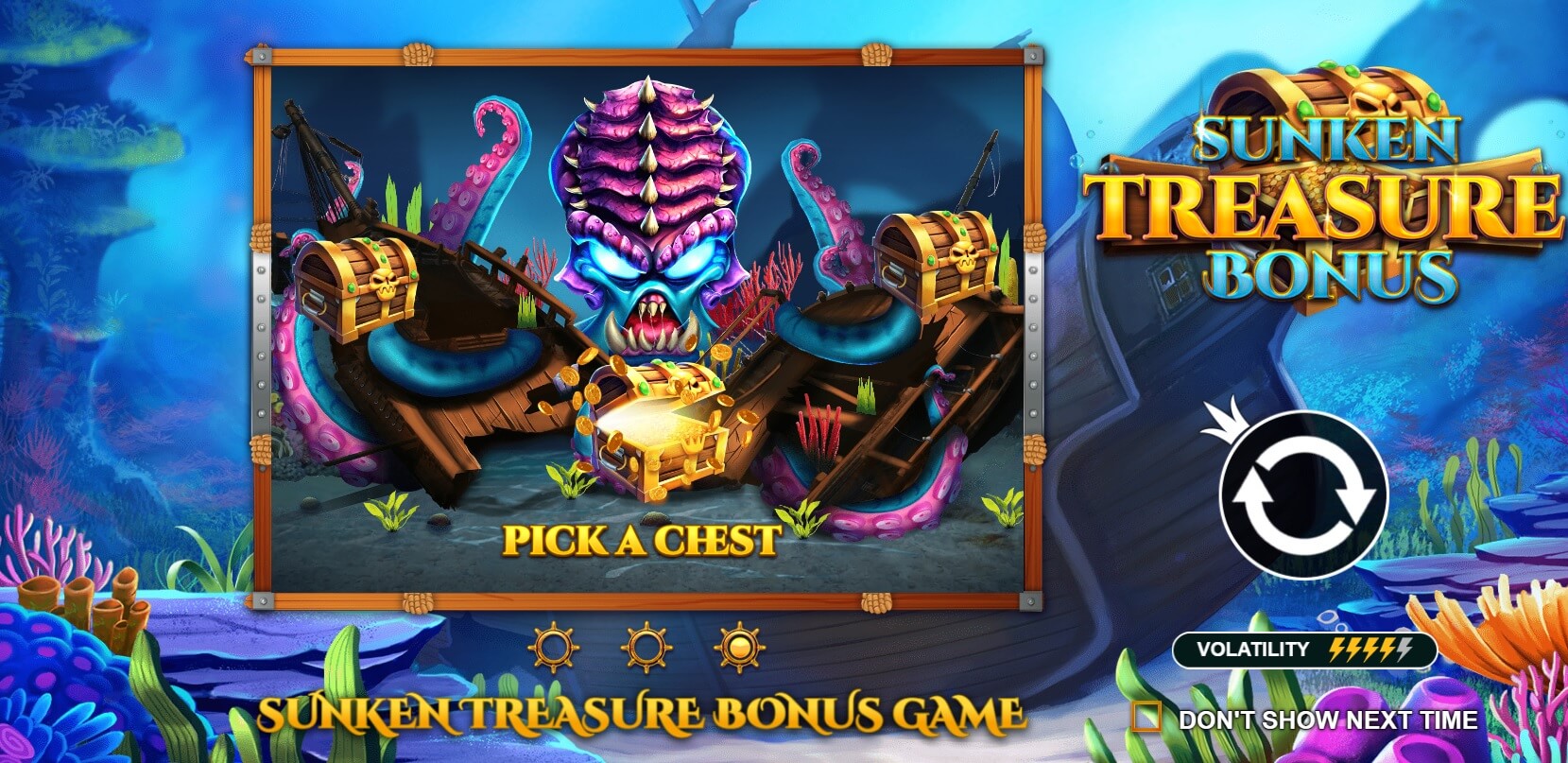 Release The Kraken Slot Conclusion
So, what does the OJO Crew think of this underwater adventure? Of all the online slots you can play in Canada, this is one of the more fun slots you will find. The graphics and effects really make you feel like you're exploring under water, and the amount of bonus features included will make your head spin. Speaking of spin, don't forget you get 50 Free Spins when you sign up at OJO and make your first deposit, and there aren't any wagering requirements!
You will certainly be able to play this game night and day without getting bored, and there is always something new to see while playing Release The Kraken on PlayOJO. OJO also has tons of online casino games for you to play as well! So what are you waiting for, hop aboard, this ship is setting sail!