Bingo Rooms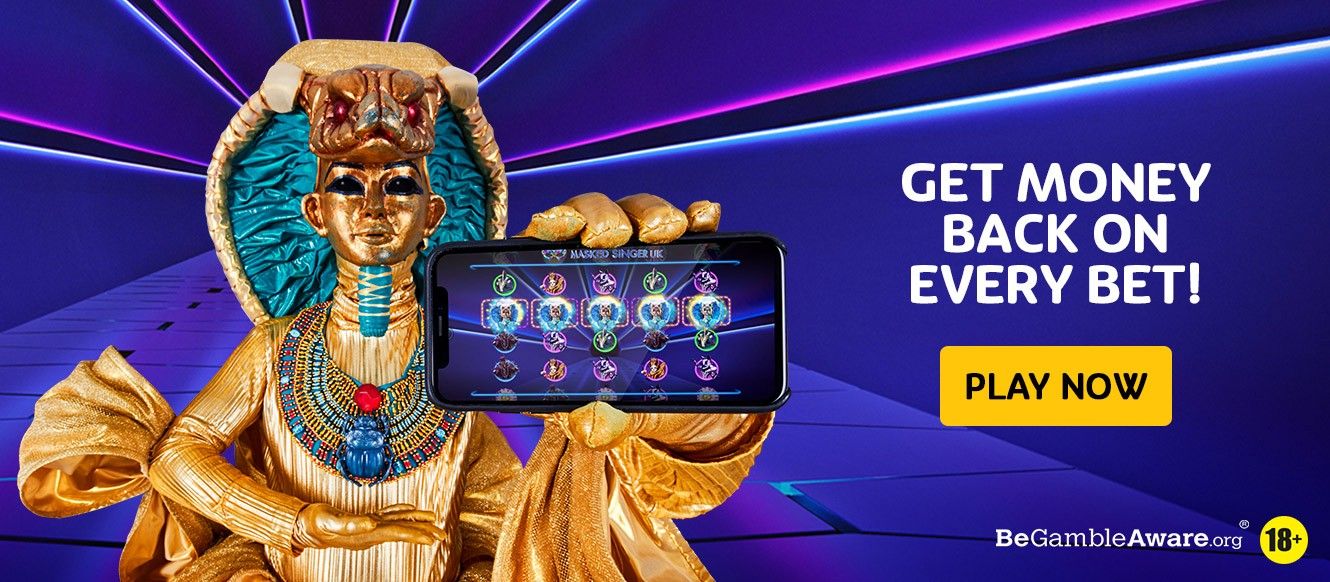 Sing when you win with our exclusive Masked Singer bingo room game. This is the official bingo game of the hit TV show, letting you join in the fun of the series and have a blast as you try to win some big prizes. With a must-drop daily progressive jackpot plus the chance to win free tickets, this is one of the hottest new bingo rooms here at PlayOJO bingo.
If you'd like to know more about Masked Singer bingo including how to play, what prizes are on offer and what to expect, read our full review below. At PlayOJO, we always want to make sure that our players are comfortable, so we go out of our way to provide all the information you need to get started and have fun. If you have any other questions about the Masked Singer room or any of our online bingo games, get in touch with us via the live chat.
What to Expect
The Masked Singer room offers 90 ball bingo, the UK's favourite. While it's the classic form of bingo, there are a few surprises in store for players, including a progressive jackpot that drops daily. If you love classic bingo and big potential prizes, this could be your new favourite room. Check out all the details below for what to expect when you play in the Masked Singer room:
Bingo Type: 90 ball bingo
Opening Hours: 9 am to 11 pm every day
Min ticket: £0.01
Max ticket: £0.20
Jackpot: Yes – a progressive jackpot that must drop every single day
Developer: Pragmatic Play
OJOplus payout: 10%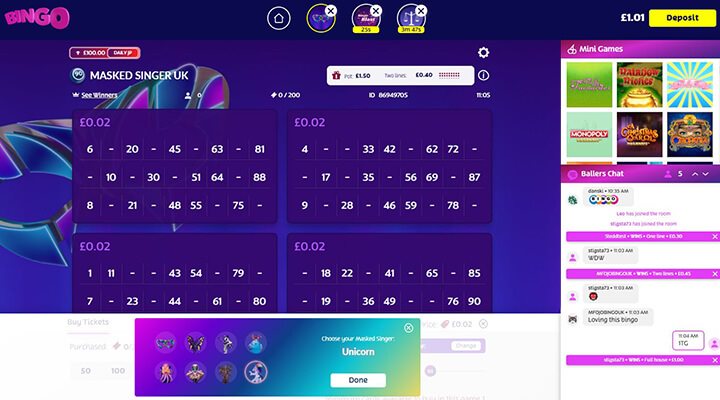 How to Play
This room is open each day between the hours of 9 am and 11 pm, so you have almost the whole day to play and enjoy. The Masked Singer is a 90 ball variation of bingo, meaning that it follows the classic rules. If you're unsure of how to play bingo in particular this new game, don't worry, we've explained the full rules below. The Masked Singe bingo room is based on ITV's hit TV show, and while it does follow the classic rules of 90 ball bingo, there are a few extra features to look out for which we'll explain in detail. Don't worry, as it's all nice and simple to understand.
To play, you'll first need to log into your PlayOJO account and join the room any day between 9 am and 11 pm. When you first join the room, you'll encounter the "Match the Mask" feature. Here, you'll have the option to choose which mask you think will appear on the full house winning ticket. There are six different masks to choose from, and choosing the right mask will mean you've won free tickets at the end of the game.
Once you've chosen the mask, you're free to buy your tickets to start the game. You can choose how many tickets you'd like to buy, with a limit of 200 tickets per person. If you already won free tickets from the guess the mask feature, you may only use one free ticket or batch of free tickets per game. If you choose to prebuy tickets for this room, the mask you choose will be a lucky dip, and you'll be allocated it at random.
After you've purchased your tickets, the game can begin. Each of your tickets will contain fifteen numbers between one and ninety. The mask you choose will also be displayed on your ticket, helping you to remember which option you chose. As the game goes one, numbers between one and ninety are called out at random and you can either daub off matching numbers on your ticket or allow the auto-daub feature to do it for you.
If you're lucky enough to form 1 line, 2 lines or a full house, you'll win a prize! The prizes awarded depend on how many people are in the room and the total number of tickets sold. On top of the regular wins, there's also the progressive bingo jackpot, which you can find out more information on below.
Jackpot Details
The main feature of the Masked Singer room is the fantastic progressive jackpot that's available each and every day. A progressive jackpot is a special type of prize that increases over time. A portion of all the tickets sold goes towards the jackpot, meaning that the more people play the game, the bigger the jackpot gets. While they're harder to win than standard jackpot prizes, they can be much bigger.
This jackpot starts at 100 when the room opens at the beginning of each day. As more people join in the fun of the Masked Bingo room, the jackpot steadily grows. To win, you'll need to reach a full house within 36 balls. This is quite a challenge, and it's fairly rare to accomplish this. However, the jackpot is a must-win daily drop, which means that one lucky player is guaranteed to win the whole jackpot every day.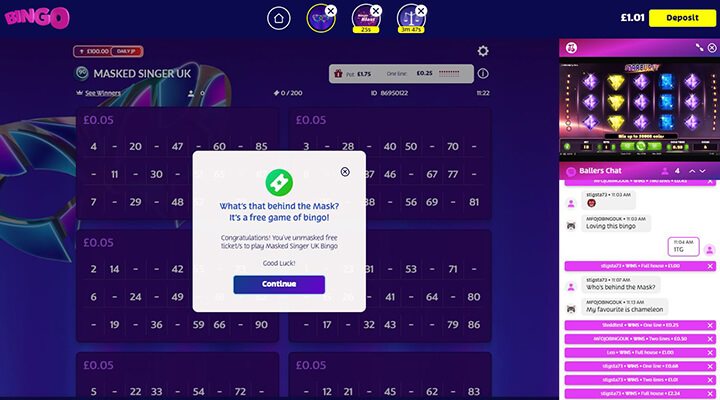 If, by the final game of the day, the jackpot still remains unwon, then the rules change. At 10:55 pm, when the final game begins, the first player to reach a full house will win the whole progressive jackpot if it hasn't already been won that day. This is a great way to ensure that everyone can be a winner and means that lots of players are joining in the fun of the Masked Singer room.
If you're not able to join in any of the games between 9 am and 11 pm, don't worry, you don't have to miss out. You can prebuy your Masked Singer room tickets at any point, allowing you to take part even if you're busy. The game will automatically daub your tickets, and if you win, you'll get a notification to inform you. When you prebuy, you're the game will choose your "Match the Mask" for you, so you'll still have a chance of winning free tickets.
Why Do Players Love the Masked Singer Room?
The Masked Singer bingo room is our brand-new promoted room, but it's already a huge hit with players here at PlayOJO bingo. Players love the classic ruleset mixed with some fun and exciting extras. But what exactly is the reason behind its popularity? Take a look at some of the main reasons why so many players are joining the Masked Singer room:
Available every day – You can enjoy some fun and potentially win prizes any day of the week at the Masked Singer room. This room is open every day, although you'll need to join between 9 am and 11 pm to play. You can also prebuy tickets if you're not available at these times.
Classic 90 ball rules – Who doesn't love a bit of classic 90 ball bingo? This version of bingo is the most popular type in the UK, so it's no surprise to see the Masked Singer room so popular with our players. If you love 90 ball bingo, you're sure to enjoy it here.
Money back on every ticket – At PlayOJO bingo, you can claim 10% back on every ticket you buy. Our OJOPLus cashback system is available in all of our bingo rooms, including the Masked Singer. With OJOPlus, you can play longer while spending less and having more fun!
Win free tickets – One of the main features of the Masked Singer room is the "Match the Mask" minigame where you can win free tickets each time you play. Before you buy your tickets at the start of each round, choose from one of the six available masks. If your choice is on the full house winning ticket at the end of the game, you'll win a free ticket!
Must drop daily progressive jackpot – Join the chase for the big prize whenever you play in the Masked Singer room. As more people play, the jackpot grows and whoever wins a full house withing 36 balls takes the lot! Unlike other progressive jackpots, this one must drop every day, meaning there's always a guaranteed winner. If no one wins before the final game, whoever gets a full house takes the big prize.
Masked Singer theme – The Masked Singer is a hugely popular show on ITV featuring celebrities, entertainment, singing and more. The show is a big hit in the UK, where the imaginative costumes are just as fun to watch as the singing.