Truelayer
Deposit & cash out instantly with Truelayer
Instant deposits and withdrawals with no fees at all? Welcome to Truelayer, a fee-free casino payment method that gets your cash in and out of your account in a flash. It's just one of the many ways you'll feel the fun at PlayOJO.
Let's review Truelayer, check out their company and show you how to deposit and withdraw funds at PlayOJO.

| | MINIMUM |
| --- | --- |
| DEPOSITS | $10 |
| WITHDRAWALS | $0 |
Why use Truelayer?
When you fancy some slot spins or a game of Blackjack for real money, you want the easiest, fastest and safest way to play. All of our casino banking methods are safe as houses, but Truelayer payments take playing at PlayOJO a whole new experience.
Almost all of our deposit methods are instant, just like this one, but many withdrawal methods can still take a few hours or days for the money to reach your bank account. That's where Truelayer really comes into its own. With cashouts processed straight back to your bank account in seconds, PLayOJO is now a UK instant payout casino!
Here's why OJO's players are giving Truelayer a spin…
Fast: Truelayer uses open banking, so it's instant - as quick as sending money to a friend online
Secure: There's no need to enter your bank details, so it's extra private
Simple: Truelayer lets you connect to your banking app and make a payment – all in a few taps
Is Truelayer safe?
Truelayer is a London-based payments company that's been around since 2016. They're on a mission to change the way people pay, and they've won awards for technology, payments and being a great place to work.
They're already a trusted provider of payment services to the online casino world and many other industries, and we're pretty pumped to see how much they can transform the payments experience for all of our OJOers in the UK.
Given their reputation and the way their solution works with your own banking, we think Truelayer is as safe and secure as any of OJO's other payments methods.
How does Truelayer work?
Because Truelayer uses Open Banking technology, there's no need for you to enter card details or create any accounts, like you would with e-wallets like Paypal. When you pay with Truelayer, it's basically a fast, secure window into your existing bank accounts, but making sure you're always in total control.
How to deposit
To make a deposit into your PlayOJO account using the Truelayer payment method, look for the "Instant bank payment" option in your Deposit section. You'll then be asked for your deposit amount and any Kicker code.
Then you'll be asked to select the bank you use, and to log into your banking app. Once you've logged in as usual, you can confirm your transaction and hey presto! The cash is in your OJO account.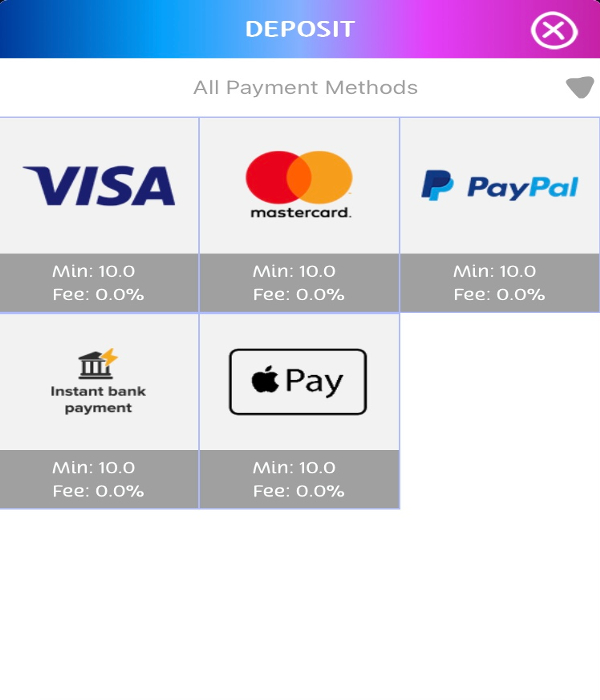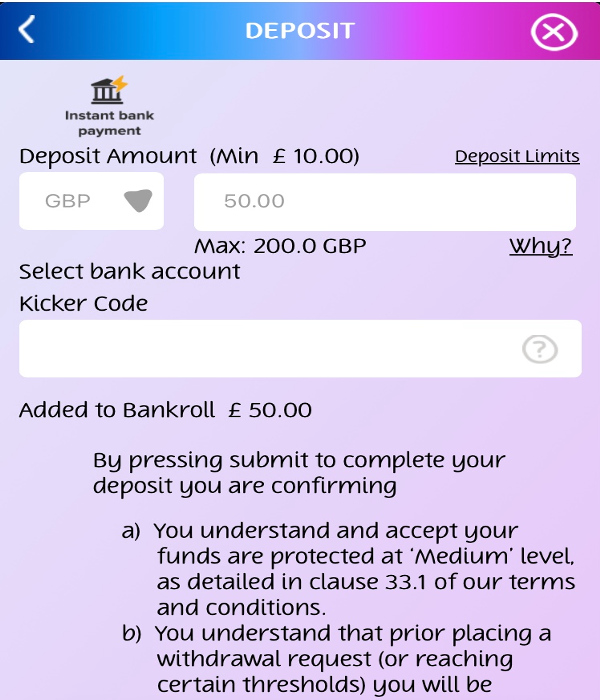 How to withdraw
If deposits are instant, why can't you have instant withdrawal at UK casinos too? Well with Truelayer, now they are at PlayOJO, the best instant payout casino online. Simply select "Instant bank payment" from the options in your Withdraw section, then following the instructions to cash out your winnings directly back to the bank account you used to deposit.
Limits and fees
The minimum deposit with PlayOJO's Truelayer banking method is £10, and the maximum amount will depend on your account and deposit limits. Like every other withdrawal method at PlayOJO, there is no minimum withdrawal amount when using Truelayer.
There's also no fee to deposit or withdraw using Truelayer – because as with everything at OJO, your money's yours.